Let me tell you a story about the Shift that is upon us.
It is a story of science, astrology, astronomy, magnetism and gamma radiation… and by just saying that I may have already lost three quarters of you.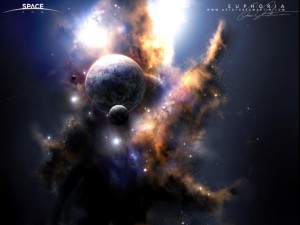 But I urge you to read on, because this story is vital to your well being at this moment.  In fact, what this story describes is the most important consideration of your life right now, and of your lifetime. It affects everything about you, the planet, and everyone around you.
But before we begin the story, I am going to ask you to change how you hear information and allow it to come to you. This is actually a skill set. First, would you make a decision to be curious? Next, would you make a decision to be interested?
Even though you don't know where this story is going, and it may not be to a place that many of you naturally go, maybe, just maybe, could you be interested and curious?
Let me stoke that curiosity and interest by telling you the conclusion of the story before we even begin it.
Here's the punch line: What you think, and how you choose to hold and direct your emotions, can and will directly influence how the Earth will change during this Shift, and where it will change.
We cannot stop the Shift. It is fully in motion and cannot be stopped. But even the weakest among us, if there were such a one, has the capacity to influence everything that is about to unfold right before us.
Let's begin the story at the Summer Solstice last June, when events in the solar system, on the planet, and in the Shift began to quite literally heat up.
The Summer Solstice triggered a cascade of intense cosmic and planetary events and phenomenon that will continue right on through the end of this year, and beyond.
In July and August, there was a lunar eclipse, a solar eclipse, and a rare planetary alignment called the Great Cross. And there were major trigger points on August 6, August 11, and August 31.
A very specific point of shift occurred on 10-10-2010, and more will occur on 11-11-2011, 12-12-2012, and 12-21-2012. There's also a series of accelerations that will happen in every single one of the quarters between each solstice and each equinox right through 2012.
The events of the Shift are upon us. By the Winter Solstice, December 21, these events will have completely changed our perception of third dimensional reality, altered our economic system, and raised our consciousness in profound ways.
To simplify these events as much as possible, you could say there are two waves to this Shift. The first wave is passing through every one of us as well as every thing, and it is clearing away any part of you that you are not. It is simply eliminating any part of you that is less than Who You Really Are—as long as you do not argue or hold onto any of these lesser aspects.
As the first wave clears 'What You Are Not,' the second wave is bringing in higher, faster light frequencies, and levels of knowledge and information. It is rewiring 'Who You Are' as a multi-dimensional being.
In essence, both you and the cosmos are transforming yourselves from the caterpillar to the butterfly, and the change is accelerating very rapidly.
However, if you are still arguing for your limitations, these accelerated light waves will push through these resistance points — and it will not be the comfortable, exciting experience you might hope for.
The Shift is very much your story, and one of your key collaborators is the Sun.
The Sun, as you know, is the center of the solar system. But the part you may not know is that the Sun is a fulcrum, the balance point of planetary alignment in the solar system. Whenever the planets are not balanced in some way as they spin around the Sun, it creates a tilt, and the Sun then shifts to bring the planets back into balance.
Throughout the summer of 2010, there was a rare planetary alignment astrologers have called the Grand Cross. Big planets were involved (Saturn and Jupiter), and smaller planets (Mercury and Mars and Pluto), each with their different powers, personalities, and assigned states of consciousness.
As in a family gathering, there has been a push and pull of personalities in this planetary alignment, and the ongoing imbalance has created a major new tilt in the Sun's magnetic field—another planned, right-on-time, aspect of the Shift. The tilt has caused a change in the balance point in the Sun. Imagine the Sun's energy is a liquid, like water. This particular tilt is causing more of the liquid energy to flow into one part of the Sun, into a new part of the Sun, and the old part is beginning to have less energy in it. As this occurs,it signals that we are beginning to enter into a new cycle of consciousness, as well as a new cycle of solar activity— solar storms and winds, solar flares, coronal mass ejections. This solar activity is going to continue, and to increase. With each burst of the Sun, there is a corresponding stepping up in knowledge, consciousness, and alignment on Earth.
The planets are gathering, the Sun is re-balancing and activating, all with the planned outcome of changing everything about how we operate in a third dimensional reality.
Welcome to the Shift.
Historically, we have operated in lesser levels of consciousness on this planet, in abuse of the Earth, not paying attention, taking advantage of. That's all about to change.
This next new cycle of solar activity (known as Cycle 24) is generating bigger solar flares than have been seen in previous cycles, shooting out from the Sun's surface at a million miles per hour. These super flares contain x-rays and higher levels of infrared and microwave light frequencies, all designed to raise our consciousness. At the same time, the Earth's magnetic field, which has had a very specific purpose in our third dimensional reality, has been deteriorating since the year 2000.
The magnetic field was like a template, or a container, that has allowed us to play in the third dimensional game as we have understood it in this lifetime and previous lifetimes. But this container no longer exists as it once did. Cosmic events are intentionally destabilizing it, clearing away the game that we have been playing.
We've all been extremely successful in playing this game but now it's time to go home. That game really is over. It's not a bad thing. It's not an ending time. But the game of the third dimension is over.
Other solar light frequencies, especially x-rays and microwaves, are also intentionally altering the dynamics of the Earth,  and all of us with it.
Medical x-rays pass through the skin, find the bones, and take a picture of the radiation imprint that is left in the skeletal structure of the physical body. The same thing is occurring in the Earth with new, highly-charged solar x-rays. They pass through the surface of the Earth, enter the crust, and are being stored there. If you put enough x-rays into a bone, the radiation of the x-rays accumulates and the bone will begin to deteriorate. In the same manner, solar x-rays stored in the crust of the Earth are beginning to deteriorate the crust.
In addition, solar microwaves are now passing right through what's left of the Earth's magnetic field, right through the surface of the Earth, and heating the core of the Earth from the inside out, just like a microwave oven.
The core of the Earth is made up of two aspects. One is solid, an iron magnesium core. The other is liquid crystal. As the liquid crystal is being heated up, it acts like boiling water. It moves faster, and expands. I'll describe the consequences of this phenomenon in a moment.
Simply put, with all this new cosmic activity, the Sun is changing, the Earth is changing, and you are changing right along with them.
But there's actually another player in this Shift story with even greater influence on all that is happening… the center of the galaxy itself.
The galaxy is creating cosmic radiation. Scientists have launched sophisticated satellites which are able to measure it.  As these gamma rays move from the galactic center they are raising our consciousness at a very aggressive level, lining up for the event we know as 2012. One of these satellites, known as the Planck satellite, has now detected cosmic radiation coming from a part of the galaxy that is very fascinating.
Between two sets of constellations, one known as Hydra and one known as Centauri, they have found a wave of light, 2.5 billion light years away, which is directly in line with the Earth's position in 2012. They just don't know if what they are seeing is moving towards, or away from, the Earth. It is a magnetic level of light so dense that as we pass through it what we define as light will not be visible. It is very possible that this event of the Earth passing through a super-dense magnetic field in 2012 is what some people have historically called the "three days of darkness."
Is that a good thing or a bad thing?
Neither. It is just an event that is sitting out in our future, pointing to our shared destiny.
Now let me bring this Shift story a little closer to home, to the immediate changes that are affecting every aspect of our way of life on Earth…
To be continued …
<http://lightworker.com/Spectrum//articlerss/author/28>    Jim Self
Featured on the Virtual Light Broadcast in 2009 and 2010 and a co-creator of the 10-10-10 Event, "The Next Convergence – Spirit into Human" with Steve Rother, Jim is often introduced as a teacher's teacher and a healer;s healer. He has been leading seminars and teaching healing, clairvoyance and higher dimensional energy management tools throughout North America since 1980. As an author of Spirit Matters: Down-to-Earth Tools for a Spirited Life, Jim's Spectrum column includes excerpts from this book, his free tele-classes, seminars and his second upcoming book.
Since childhood, Jim has had a conscious awareness and ability to remember his experiences within the sleep state. Over the last ten years, this awareness has expanded into relationships with the Archangels, Ascended Masters and Teachers of Light. The tools and information presented in the Mastering Alchemy programs are co-creations of these relationships.
Jim walks with a foot in both worlds. At the age of twenty-six, he was elected to his first of two terms to the San Jose, CA City Council and later became the Vice Mayor. Before completing his second term, he was asked by President Jimmy Carter to be the Director of Governmental Operations for the Dept. of Energy. As an entrepreneur, he has successfully built and sold two corporations, and is the founder and current Board Chairman of a third.
View all articles by Jim Self <http://lightworker.com/Spectrum//authors/28/Jim-Self>