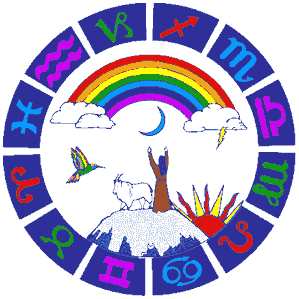 "I so appreciate you encouraging us to take SA Level 2, as it was like a thorough in-depth reading (with my 'Script'), beyond anything I've ever received before. Somehow SA complexes in particular, has helped me understand my very complicated nature. This knowledge has supported me to have a profound epiphany around my Father Wound (the root cause of my anger), that I am forever grateful for ~ what a priceless healing!"
"Thank you so much for a most informative and enjoyable class. Level three helped me take things to another level as we applied what we learned in level two. I appreciated the break down you shared about how to approach the chart analysis in your last class and learning the bi-wheel analysis."
To Start: Level I Shamanic Astrology Study Group

If you have received a reading from me, are a priestess in my lineage (or have a strong interest in Shamanic Astrology)  you are invited to participate in a Level I Shamanic Astrology Study Group conference call series. These classes have been going on for a few years now, and are the pre-requisite to moving onto Levels II, & III where you will learn to actually read and interpret a natal chart and work with charts of your friends and family.
You must have had a Shamanic Astrology reading with me to participate. Most of the participants are priestesses, but if you have a strong interest, we can make an exception.
Level One
Beginning Shamanic Astrology, The Astrological Wheel, the Archetypes (Signs), Houses, Angles, Personal Planets and Goddess Asteroids. You will be filling out your own astrological script, learning your own chart in greater detail. Your Personal Planets and Asteroids can be viewed as your sub-personalities and the Angles are the major areas of your life.
Each Series of six classes will be no more than 5 students so that you will receive a very personal focus on your own chart, with my many years of insights and expertise.
The Conference Call SA classes are one hour +, 6 classes, $50 per class, if you are paying per class, or $275 per 6 sessions if you pay ahead, and can be paid by check, Visa or MC or PayPal ( a bit extra if you do not make payment via friends and family on PayPal). You are registering for all six classes whether you attend them or not!  They will be recorded every session so if you miss one you can listen to the recording and catch up. You will call into a conference call line for every class and receive materials and the charts of your fellow students to guide you.
The only other expense is The Shamanic Astrology Handbook  and the Twelve Tribes CD  You can order them through SAMS: www.shamanicastrology.com
These study groups do not substitute for Shamanic Astrology Mystery School  Intensives, but they will prepare you for the formal certification classes if your intention is to eventually become a certified Shamanic Astrologer through SAMS.  If you know you are ready to jump into certification, however, I advise you to sign up for a SAMS Intensive rather than spend your time on the class, as a better use of your time & energy & funds. Go to www.shamanicastrology.com  and click on Events.
There are 5 spaces available in each series, and these are on-going. We will create our classes according to all of our schedules They will be filled on a first-come basis! CONTACT ME IF YOU ARE INTERESTED.
Fees are: $275 pre-paid ($284 if paid by PayPal and you do not use freinds & family) or $50 per class ($53.00 if paid by PayPal) Make out and mail checks to: Full Moon Sanctuary, 38 Starshine Ridge, Whittier, NC 28789