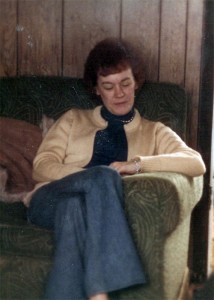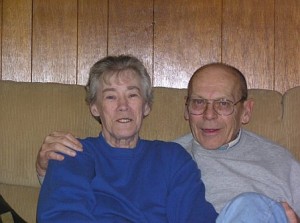 Barbara Kraus Anderson Jonas died around 9 am today in Statesville, NC. She was my mother, 20 years older than me, aged 77, exactly one month before her 78th birthday on March 11th.
The story of her passing starts with the story of my sister Rebecca's passing at age 41, nearly 12 years ago at Spring Equinox, 1997. Rebecca had kidney disease and had gone through 2 transplants and a few rounds of dialysis before her worn-out body simply gave out in a cardiac arrest. We all knew that Rebecca had a shortened life-span, but the shock and grief of losing her daughter was too much for my mother, who internalized her pain as the Pisces suffering mother that she has always been. Mom felt deeply, but often only referred to her pain in a tough kind of "I don't want to talk about it" way. Barb was a nervous, brittle woman at times, and liked to keep things under control. After all, she raised 5 children pretty much on her own and in spite of her acting out, alcoholic first husband, who was more of a problem that us kids ever were. When I was in college, mom had a few "nervous breakdowns" and her characteristic style was to medicate with pain killers, and "nerve pills".  Rebecca's death was probably the life event, along with a lifetime of smoking cigarettes, that activated the lung cancer that eventually took her life.
Two years later, mom was diagnosed with lung cancer, and she chose to undergo a surgery that removed two-thirds of a lung.  Her recovery was fairly smooth. I remember bringing a few friends together at her home in Illinois and convincing her to let us do a healing ceremony on her.  She loved it!  The crystals and the music and the hands-on energy of three women seemed to seep into her soul and give her a new perspective.
Although she had several bouts with pneumonia, and colds that put her into the hospital, she had a good 8 years of life. About three years ago, her beloved little West Highland Terrier, Molly, died fairly suddenly at age 13. Molly kept her going in many ways, as our companion animals do so very well. That was the straw for her.  She seemed to start slipping again into that place where she talked about leaving and did not seem to be really living. She was re-diagnosed a year ago with lung cancer.  Soon after that diagnosis, amidst a struggle between my stepfather Roy and my mother, and a near health crisis disaster, my sister Karen and I insisted they move closer to where we were in NC. Of course they dreaded leaving Illinois and everything they had known for most of their lives.  In June 2008, Karen and my brother Matt moved them to an cute, convenient and efficient little house 5 minutes from Karen, Scott and my niece Jill and her young daughters in Statesville, NC.
It took a few months for her to really settle into the house, but over the past 8 months she came to appreciate the little house and it's convenient floorplan, and the proximity to Karen and Scott. I got to make 5 or 6 trips to see her and I was so grateful to drive 2 and half hours rather than the 13-14 hours I was used to driving to get from NC to Peoria, IL.
She was very open about not being around much longer. She had times of pain, some intense, especially recently when she was taken to the hospital and refused admittance until Karen insisted they treat her for the pain.  That was just a month or so ago. She was sent home then under hospice care, with a morphine pump. The change in her was dramatic, no longer in pain, a little high from the morphine, she seemed at times exultant and happy.
My last visit with her was two weeks ago, right before I left for the current trip I am on. I last talked to her about 5 or 6 days ago, when she called me on my cell phone, which she hardly ever does, to tell me that she was doing very well, and that she and Roy and Karen and Scott were going to take a trip to Cherokee, NC to the Casino there.  Unfortunately for me, Cherokee is a few miles from my home, but because I was not there, they did not stop.
She called me very early that day, unaware that I was on West Coast time. I was startled at the call but was happy to hear from her, even in my grogginess. I told mom that I was reading a book called Dying Well by a hospice pioneer, Dr. Ira Byock, and that I wanted to read her some of the stories when I saw her next. She would always be careful to say "I love you" before she hung up.  I knew that she meant "if I don't talk to you again, you know I love you."
My greatest sadness is that I was not there when she left, that I did not get to stay good-bye, that I am traveling, and that I don't really have the downtime to grieve.  But today I honored her and my tears, dissolving and re-emerging, talking to loved ones by phone and email, passing back and forth pictures, memories and allowing the prayers and messages and comfort of others to touch me deeply.
My greatest peace is that she is now flying free, pain-free, and reunited with many who have passed before her, including her daughter Rebecca, a brother who died at age 2 years old, her father who committed suicide at age 60, and her mother who died @ 5 years ago.
My mother's life was never easy, but she was always brave and as strong as she could be. She would always say, "I had no business having five children, you know".  And I would say, "But you did just fine…look at us!" She was a smart woman who at one time had a math scholarship to Bradley University in Peoria, IL. She let it go because she felt bullied out of the program by the men in her department who told her she was wrecking the grade curve. So, instead of an accountant, she became a bookkeeper, and made a living supporting her kids as best she could.

I am fortunate to have a large community of soul-family, students and friends. I sent out an email announcing my mother's passing this morning.  Many have known of her condition and have been asking about her for the past year. The flood of prayerful emails and calls I have received has kept me in a vigil state of grace and vulnerability the entire day. I feel so blessed to have many of my very intuitive and psychic friends check in on my mother and report that she seems happy and was ready to go. My Soul-Sister, Star Wolf, called a little while ago to say that she did a pipe ceremony for her and I, and that she is in no need of any special assistance on her way home to her soul group.

I always wondered what my response would be to my mother's passing, and I knew I would find out soon enough. I feel that this grieving is different than any I will ever do, and I relish the time it takes to fully feel and integrate my mother's life into my being.
My priestess sister Toby Evans, who is an amazing Akashic Reader wrote this to me tonight:
You are exactly where you need to be to most facilitate your Mother's grand entrance into the spirit world. You are doing what you do best and she wouldn't want it any other way. I feel the buoyancy of her spirit in this moment, so happy and free and reunited with loved ones. Remember that your Higher Self is there too – to greet and welcome her .
This will mark a new beginning for you as you will be on the planet differently- as if a baton has been passed. The gifts will be many as you open your heart to receive them.
I believe her, and will do my best to live into that reality.
Tracey, my brother Steven's friend, sent a mother poem that I will close with, and dedicate to all of us who have lost a mother……
And they stood and watched her as she went on alone, and the gates closed after her.  And they said "We cannot see her, but she is with us still.  A Mother like ours is more than a memory.  She is a living presence."  Your Mother is always with you.  she's the whisper of the leaves as you walk down the street; she's the smell of bleach in your freshly laundered socks; she's the cool hand on your brow when you're not well.  Your Mother lives inside your laughter.  And she's crystallized in every tear drop.  She's the place you came from, your first home; and she's the map you follow with every step you take.  She's your first love and your first heartbreak, and nothing on earth can separate you…Not time, not space….not even death!