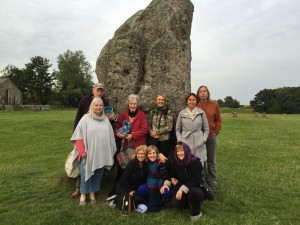 We gathered together in South West England from many places: our South Aftrican crystal skull carrier Jennifer the furthest, then Daniel in the Phillipines, then Jacqueline living in Tuscany, and from Kansas City, Cincinatti, Atlanta, Washington state, Central Florida, and North Carolina. Our local right side-of-the-vehicle, left-side-of-the-road drivers Christina and Sara live the closest. We are a friendly and enthusiastic bunch. We have been connecting by email for months, and many of us are in interconnected circles, students of Daniel, priestesses in my lineage, and like-minded adventurous souls. The cross-quarter time of Lammas, Venus's close conjunction with Mercury and Jupiter and her movement into the Underworld to transform into her incarnation as Leo, all set the cosmological stage.
Our gathering place is an old country estate and villa in Swindon, UK, some 600 or more years old, added onto to many times. It was owned mostly by a family of elites with legacies of rigid, crippled people and acting out rebels. More than a few wives were "banished" to this summer estate for some kind of impropriety (Oh, to be banished here must have been such a hardship!). A few of us take the tour of the ancient house, walls lined with portraits of stiff but important people, and we easily conclude that this was one unhappy family. The 250 acre estate grounds showcases several huge old trees, a pond, and a carefully tended ancient walled garden with species dating back to the 1700's. The park continually buzzes with families, children and dogs. There is a very old church in the back yard of the house, which must have been a constant source of angst for the household residents. 600 years later in our built-on hotel next door, we had sumptuous food served to us 3 times a day, afternoon tea, sweet single rooms, and a swimming pool. We had a big meeting room with windows and breezes blowing through, all looking out onto uncharacteristically sunny summer English days, to immerse ourselves in the Shamanic Astrology mysteries. We shared our stories and our place on the wheel, listened to Daniel teach, to stories of the Celtic pantheon, enjoyed two fascinating guest lecturers, danced a bit to Celtic favorites, made a collage, and dreamed into our daily excursions and ceremonies. We sensed that the ancestors of Lydiard Park were happy to have us, and accepted our presence.
Heritage apple trees from the 1700's,
gigantic thistles and large thriving
blooms of the Lydiard House
Walled Garden
Our intention was to weave back together what Patriarchy has torn asunder in humanity, and in ourselves, especially in our connection with our ancestors. We all resonate with the Celtic lands, and in this area of the UK, we can feel the magic that surrounds us. We are an hour from Stonehenge, and the new archeological finds in that area that continue to be unearthed daily. We are 20 minutes from the Avebury area, where a series of stone circles within stone circles, stone avenues, chambered cairns, barrows, man-made hills, and curious chalk drawings etched into hillsides are everywhere. As a bonus, this is where crop circles pop up during this time of year, and we are all keen to visit at least one. After all, we are The Crop Circle Clan. The first day we head off to the village of Avebury, smack dab in the middle of all the stones.
*
Bookstores, Cottages, and
the irresistable Pub
at Avebury
The local metaphysical bookstore has a large map of the Wiltshire area, a county of 1,300 square miles, with the season's crop circles dotted across the landscape. Unfortunately, the farmers of the area are not often willing to open their land for visitors to see them these days. After years of losing money because they sacrifice the crop in the field where the circle appears, and folk disrespecting their property in various ways, there are not many who take kindly to crop circles. We were lucky, though, and we found two that were close to each other and allowed access, thanks to Gabriella Kapfer http://peace-trails.com/ who scouted them out before we arrived. The Crop Circle Access Centre, who sponsored a Crop circle exhibit in Marlborough that several of us visited (imagine, an exhibit of circles, research, videos and photos over 25 years), was on hand at our first circle, the Eagle at Uffcott Down, to collect funds for the farmer. The second circle seemed to be on land that was not oveseen. The Eagle was huge, with no way to know where we were except for a map we were given when we paid our £3 admission. With Gabriella leading the way, we headed to the crown chakra of the Eagle. Some of us felt electrical energy, hands buzzing, a charged feeling. I was fascinated at how the wheat was precisely combed, layed and cornered by whatever force created this masterpiece. Later we headed to the heart, just below the crown, and we concluded the energy was yang, activating and definitely solar. The Crop Circle Connector interprets this one as 2016 being the possible return of Quetzacoatl, the year when the circle makers meet humanity. See the full interpretation here.
| | | |
| --- | --- | --- |
| | | |
| | | |
| | Walking into the Eagle, discovered a week before we arrived, and sitting at the Crown Chakra | |
The eight-pointed star within the square and circle, Etchilhampton near Devizes, discovered August 7th, a few days after we arrived in the UK, was 15 minutes away. As we headed down the road, we were the Crop Circle Clan On Fire from our experience at the gigantic solar eagle. This next circle was a new kind of woven formation, seen in recent years. The wheat is layered over itself  in exquisite patterns that cannot be fully appreciated from within the circle. The eight pointed star is subtle, and can barely be discerned in the arial photos. We promptly feel asleep or went into deep meditation in this layered feminine energy, as if we were being held in a basket.
| | |
| --- | --- |
| | |
| | The eight-pointed woven star, and earlier woven formations (below), breathtakingly intricate and complex. |
After that, crop circles sprung up around us all week, and we are pretty sure we called in one of them, as it was an astrological wheel! There was no time left in our fast-paced, full-to-the-brim week to chase after them. Because of our crop circle immersion day, we all seemed content to be surrounded by them at a distance. It was clear to many of us that we wanted to come back for more on another adventure at another time.
The largest stone circle, dated about 2,600 BCE that surrounds the village of Avebury, is itself surrounded by a henge, an ancient circular ditch, that probably contained water at one time. The two inner circles are connected to two stone avenues, that lead to a meeting place between the two. One seems for the masculine and one for the feminine, and it is easy to imagine the surrounding site of Silbury Hill, a huge human-made hill also surrounded by a henge, alight with a flame on Beltane, and processionals of people gathering to celebrate this Wheel of the Year point from all over the world. Many still do. The Avebury area draws many thousands of visitors each year. Artifacts have been found from Egypt and other parts of the world in the the West Kennet Long Barrow, a 5,700 year old multi-functional chambered site.  We could not get enough of the magnificent and prolific sites at Avebury. There was too much to explore and not enough time to do it all.
Peter Knight, guardian and expert on West Kennet Long Barrow, emphasized how all the sites in the area are intimately connected, with site lines to other sites as long as 3 miles. The crop circles add another texture to this rich area of sacred sites.  West Kennet is 16 miles from Stonehenge and just south of Avebury, part of an extended landscape of earth temples. Every mile or so, there is a chambered longbarrow, with West Kennet being the largest. Peter feels it was the abode of wisewomen and priestesses who oversaw births, deaths, and other rites of passage. The burials that were most predominant were the placements of only human bones in the chambers. Huge boulders in front of the entrance indicated that the site was closed 1,000 years before the Avebury circles were built. Perhaps it had served its purpose and a new era was ready to be birthed. Perhaps our current monotheistic religions will someday see that they have outlived their own uselfulness, too! Peter guided us in a night-time shamanic journey within the longbarrow, where we were encouraged to call to, and receive messages from the ancestors. Many of us saw images and heard messages that continued to stir the pot of ancestral awareness.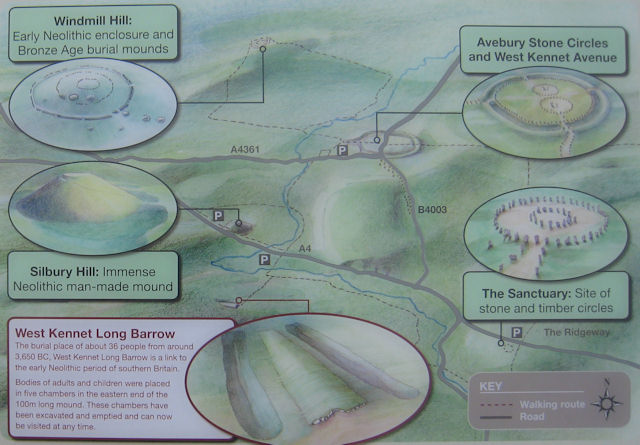 | | |
| --- | --- |
| | |
| | |
| | |
Stonehenge was scheduled many months ahead by sound healer Gabriella, so that we could actually go inside this closely guarded monolith. This beautiful large stone circle was a disappointment for many reasons. The police guard warned us that if we so much as touched a stone, we would be asked to leave. The stones were clearly restored to the point that they could have been part of a museum or Disney display, the life in them long gone. Our sound healer and her partner did their best to create music over the loud traffic on the ground and in the air. A large group of us paid thousands to the curators for the privilege of sitting inside Stonehenge for an hour, and got up in the wee hours of the morning to travel there to boot!
On the way back from Stonehenge, we visited the Salisbury Cathedral that was celebrating the Magna Carta signing 800 years ago. There was an old pagan site next to the church that emphasized how Christianity built over the sacred sites, and knew that the ancients were connected to the magic of the land. We wandered around, intrigued by the stylized but spooky beauty of the place, where hundreds of notables were buried in tombs in the floor, the strange religious custom of the day. I suppose if you had the money, you could get really close to God. Some tombs were built into the walls, and had porcelin effigies guarding them.
The ancestors were stirring within and without, the Partriarchs, the Celts and the Neolithics. Daniel's keynote of the week was his famous evolving lecture Who Are We and What the Hell Happened? As we visited the sites, felt the stirrings of our own personal ancestry, and heard from Daniel about the recent discoveries around this area and around the world, we felt ourselves getting ready to honor them. On a rainy day towards the last of our week, we gathered an altar cloth, symbols of the old story and the new story, a libation and some food and headed out to the park-like grounds of Lydiard House under a big old tree. We called in the directions and the elements. We spoke to them from our hearts, from our personal stories, forgave them, and asked them for forgiveness. We asked them for what we needed in the coming times to help us bring in a New Earth and a renewed connection to the land and to what really worked in their times, especially the pre-Celtic times before patriarchy. We honored that in this part of the world they held off patriarchy till 1,500 BCE in some places in England, Scotland and Ireland, as much as a few thousand years after it had overtaken the rest of Europe. We felt that our ceremony was good and our week was near completion.
Our final ceremony began at one of the ancient standing stone avenues of Avebury, where we wound down and around to two huge standing stones that are obviously yin and yang gateways. In the twighlight crack between the worlds, we gathered together the jewels of our week as adventurers of the Crop Circle Clan, and spoke our commitments to our own sacred marriage within. So Be It As We Make It So!
2016 Excursions: Ireland and Scotland
Visit our webpage on this webiste, and our facebook page for details on the 2016 Renaissance of the Sacred Feminine: Stars and Stones of Ireland and Scotland excursion~retreats. Join us for all 14 days or just 8 days, on the wild western coast of Ireland at Kilronan Castle and then the Newgrange area, then 6 nights on the Isle of Lewis at lovely Doune Braes hotel, our homebase to explore the great Callanish Neolithic circle and surrounding sites for 6 nights and 7 days: August 20th through Sept 3rd, 2016.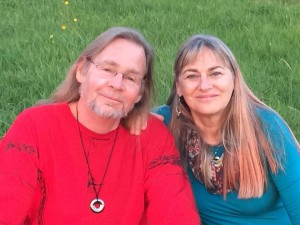 If you have read this far, enjoy my SPECIAL ADDITION BELOW! Pictures from the Cropredy Music Festival, Cropredy Village, UK August 12-15, 2015 sponsored for the last 10 years by the 70's British band, The Fairport  Convention! The Brits love their dogs as much as us Americans do (attended by me, Daniel and Jacqueline after our Avebury adventure).