I am thrilled to offer you a few fascinating perspectives on our recent Yucatan Journey, facilitated by my husband Gary Stamper, myself and Carolyn Baker….I don't have the time to write at the moment, and both authors Jo Ann Heydron and Carolyn Baker have said it all:
Guadalupe In The Laundry Room: A Yucatan Epiphany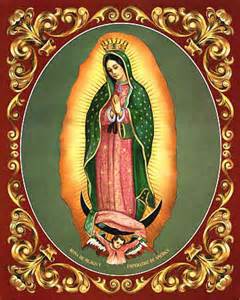 By Carolyn Baker from  Speaking Truth To Power
Knowing that each of us has our own experience of our amazing journey to Yucatan and that each of us makes sense of it differently, I would like to offer my perspective in the light not only of our journey, but our re-entry as well. Some of us have had strange if not bizarre re-entries. Many of us have returned feeling ungrounded and off-center, and this may be more than the result of jet lag. Perhaps something more profound happened to us in Yucatan than we yet understand.
My own experience with traveling to sacred sites and entering the territory of indigenous ruins is that they are anything but dead and inert. In fact, they are very much alive, and the spirits of the ancestors living there have never left. If we are open to their presence and their power, we may actually receive the wisdom we came there to discover, and perhaps even more instruction than we bargained for. If we're serious about this "evolution thing," it seems that it behooves us to be very curious about what happened to us in Yucatan and what might continue to happen. As middle class Anglo citizens of industrial civilization, all of us, including myself, would love to hold hands and dance around the many sacred sites of the world feeling bathed in light and love, but what if the spirits inhabiting those places have another agenda? What if they really want to teach us that suffering and light are not separate, just as none of us is separate from each other or from the earth? What if they need, to some extent, to kick our butts to make their point? I've personally had my butt kicked a number of times during and after visits to sacred places, and when I stay open to the possibility that that is precisely what is happening, the upheaval feels less bothersome.
Some of us got sick on the journey. Some of us had weird re-entries to our homes or perhaps became ill after the journey or just felt peculiarly ungrounded. Might this be part of what some call "a fiercely unwanted growth experience"? Our journey began with a psychic surgery performed by Israel. He knew what each of us needed in order to cleanse our psyches and open to the mysteries of Mayan tradition. Could he have been a messenger of greater forces wanting us to break down in order to break through?
Along the way in rural Yucatan we witnessed extreme poverty and heart breaking suffering of animals. The rational mind wants to separate this from the heart warming community we witnessed among the people and their devotion to the sacred. They are poor economically but rich in many other ways, yet those many other ways do not erase the excruciating reality of their suffering. We were immersed in opposites—poverty/richness; kindness/animal neglect; Mayan/Hispanic; indigenous/Catholic. One of the most difficult skills for any human being, but I believe the most crucial, is the capacity to hold the tension of opposites.
This was emblazoned on my mind on Saturday night when I walked into the disaster that was my room at Dos Playos and found a small lake beside my bed. Immediately next to my room was the laundry room where women apparently worked all hours of the day and night to provide clean towels for the hotel. In order to wipe up the mess on my floor, I wandered into the laundry room where many of these women were toiling, and at the entrance was a very large image of the Virgin of Guadalupe framed with flowers, and embellishing the image on the altar below was a cluster of burning candles. Clearly, Lupe's presence was invaluable to these women who probably earn less money than we can imagine. Once again, the suffering alongside the sacred. After receiving my towels for wiping up the mess, I stood for a moment in the corridor of the laundry room, my eyes alternating from Lupe to the women and back to Lupe. For a moment, I got it: The suffering and the sacred are always inextricably connected.
As I write this missive today, I feel weird and ungrounded. Last night I came home to eight inches of snow and was locked out of my house. I spent the night with a neighbor who keeps her house icebox cold. Other than the two hours' sleep I managed to get, I did little but compare the warmth I had just come from with the chill I had entered. I don't know what other weirdness I'm going to encounter in the days ahead. But I know one thing: When Israel placed a warm crystal on my forehead and then on my heart, the ancestors expected me to pay attention, and they still do.
From Jo Ann Hedron at Talking to Strangers: An Introvert Hits the Streets
I promised myself that when I came back to this blog, I'd write about books and writing and nothing more. Whoops.
Israel May
My husband and I just returned from Mexico, where we and fifteen others met at the Cancun airport and traveled west by bus to the colonial city of Izamal. We spent a week there driving out to visit Mayan ruins and learning from a Mayan shaman. Gary Stamper, Anyaa McAndrew, and Carolyn Baker–all people I hope to know for the rest of my life–planned the trip. I don't think any of them would object to my saying that the shaman we spent the week with, a quiet, modest man named Israel May, was our teacher and leader. With Israel we visited Mayan ruins in the Yucatan and Quintana Roo states of Northern Mexico–Chichen Itza first, then Ake, Tulum, and the Temple of Ixchel.
From 1800 BC to 1500 AD, the Maya thrived in stages in Central America, primarily in areas that now lie in Mexico and Guatemala. As you probably know, they developed written language, higher mathematics and astronomy, as well as skills that allowed them, without benefit of pack animals or metal tools, to build communities both beautiful and functional, and feed their people. A powerful mystical tradition also grew up.
Why the Maya "disappeared" is a topic of some interest to people in the collapsing cultures of the global North. We know that Mayan cities from the classic period (about 250 AD to 900) were deserted long before Spanish soldiers and priests began their invasions in the 1500s. There is no consensus as to precisely why these communities failed. Some guesses are that a long drought stressed the primary crop, corn, that too many rich demanded service from too few poor, that forests were overcut to clear land for farming and to fuel preparation of the limestone plaster used to ornament buildings.
From the jungles of the south, the Maya moved north. Although the north was dryer, they could tap into water tables at shallow depths. In magnificent cities like Chichen Itza and Tulum, the Maya maintained a culture remarkably uniform through the centuries until the Spanish tried their best to wipe it and them out.
Chichen Itza, Pyramid of Kukulcan, "The Castle"
Ake, roof of marketplace missing. Although Ake is Early Classic, older than Chichen Itza, it is not yet completely unearthed.
Tulum, El Castillo
Temple of the Goddess Ixchel, Isla Mujeres
The Mayan people, however, have not disappeared. We saw them, small in body, forthright in gaze, everywhere we went. Israel learned his shamanic skills from his grandmother and now educates northerners in ancient ways, doing as much good as he can for visitors who have trouble benefitting from what they don't understand.