Anyaa McAndrew 10-20-13
I tu
rn 62 in less than a week. I am in the midst of a bunch of Uranus, Jupiter and Saturn Transits that are pushing me to break out, break open and get free-er. So, in July when Gary & I were returning from an Eagles 40th year anniversary concert we happened upon the Soul Train Cruise, leaving San Diego in early October. Wow! Wouldn't that be incredible? Then looking at the cost, we knew it just wasn't doable, but we could get on the mailing list to wish and want and intend anyway. Then, later in the summer the price dropped to 40% off, and we had to do it. We flew out of Charlotte on October 5th and boarded the luxurious (really!) Holland America Westerdam in San Diego with 1,999 other lovers of soul music for The Hippest Trip at Sea.
The ship staff was mostly Indonesian, most of the passengers were African American, and we were the minority race. After all, it was American people of color that created this genre in the first place. We all came together in community pretty easily. As one musician said, we were a captive audience. We united through our love of the music, the musicians who wrote it, and performed and perpetuated soul music. From the dreamy love songs and ballads that swoon you right out of the room, to the lusty funk and uplifting rhythms of higher love and consciousness, we were captive on a magical carpet ride. Musicians like Gladys Knight, Earth Wind and Fire, Jeffrey Osborne, Confunkshun and many others performed for us in small and larger venues, by dance floors, in interviews and in celebrity events. We attended 3-4 live concerts a day and went to bed filled up to the brim.
Imagine being treated like royalty for seven days, enjoying great food and wine, being on the ocean in a magnificent masterpiece of a ship decorated with red carpets, chandeliers, and artifacts from around the world. Then add a few thousand very happy people who've grown up with the music that ushered in a whole new peace and love consciousness to the entire world. Needless to say, we had the time of our lives!
The spiritual dimension of the whole experience was not lost to Gary & me. Although we heard a definite God~He religious orientation, there was something about the music that allowed everyone to find a somewhat different vibration together. I could include and transcend God~He because this God was not vengeful or a strict disciplinarian. This God loved sensuality as much as He did our surrender to Him, and He was also a very loving, accepting God who did not see color, race or lifestyle boundaries as important. Even though I grew up with soul music, today I have a different relationship with my soul, so I believe the music went deeper. Birthed from gospel music, as jazz is, there is innate spirituality to this music and the genre. I could feel it in my lower chakras all the way up through my heart and high heart, but even into the higher "spiritual" chakras, especially with bands such as Earth Wind and Fire. Fields of consciousness are created in concerts in general, which is why music, especially live music, is so powerful. The soul music had the effect of weaving us together, so as the week went on, people become friendlier. What a greater appreciation I now have from a higher perspective, of how this music actually wove us together as young people during the cultural revolution of the 60's and 70's and 80's.
On the Soul Train Cruise, Gary sang karaoke a few times, and made fans and friends. Since a lot of soul-music-loving white people have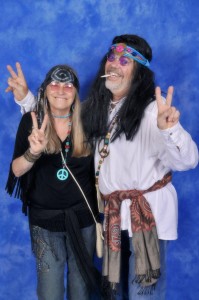 been hippies, we dressed up on costume night as crazy flower children. With stuff from our closets at home, and a horrendous black wig that made Gary look more like an Apache weirdo, and act like Cheech, of Cheech and Chong, we bopped around the ship running into our counterparts. There were a lot of afros, Egyptians, and freaks that night and we all had a great time. Even though it was fun to dress for dinner most evenings, on Dress-to-the-Nines Night on both cruises, we did our best to take it up a notch. Mostly we watched the show of glitter and glamor and color swirling around us and probably made it to a 7.5 rather than a 9.0.
Imagine our delight and curiosity to wake up in the mornings and watch re-runs of Soul Train on our cabin TV. We were pleased to meet the son of Don Cornelius, the producer who positively influenced the careers of hundreds of soul musicians through the longest running TV show ever of 35 years! We witnessed, and participated, in the honoring of this black hero who took his own life 2 years ago. A foundation has been created in his name and his life's work goes on in many ways, with documentaries on Soul Train, the Soul Train Cruise and of course the music and the musicians.
About mid-week, we had been hearing lots of great reviews of the Smooth Jazz Cruise, so we asked about next years' event and learned it had been sold out months ago. We could book a 2015 Smooth Jazz Cruise (yikes, where will we all be in 2015??) or we could consider just continuing on into the following week as the Holland America Westerdam morphed into the 2013 Smooth Jazz Cruise the Saturday we were scheduled to fly home. We were offered the same 40% discount, so Gary & I leapt into the unknown and launched with the West Coast Jazz Greatest Party at Sea for another seven days!
Good Goddess, we had an idea that we were in for an extended treat, but we really had no idea of how rich our experience would be. We were already comfortably ensconced in our stately quarters, me enjoying room service breakfasts and taking a nap every day, Gary exploring the ship and meeting musicians and making friends. I tend to be the introvert to his extrovert, something I really enjoy when we are together. Gary joined the talent show, and got to perform some of his singing and comedy in tandem, which of course gave him minor celebrity status in the ship culture. The nightly concerts (again 3-4 per evening) kept us in awe. The live music simply transported me (and all of us I can pretty much say) to levels of extended bliss and joy that are way out of the ordinary.
We were again in happy captivity as a collective of 2,000.  This time the racial make-up was about 50-50. We had the black comedian Alonzo Bodden – winner of last year's Last Comic Standing – on both cruises, keeping us all in non-stop hysterical stiches with his racial jokes and political boundary crossing, and no one was immune to being preyed upon. Headliners like Tower of Power, Oleta Adams, Candy Dulfer, Boney James, David Sandborn, Brian Culbertson, and Earl Klugh not only had their own main stage shows but came onto the shows of the other musicians and jammed together all week long. While the musicians played us like they played their instruments, the music itself resonated through all dimensions, and vibrated all the chakras. The creativity, spontaneity and potency of the live concerts often brought tears to my eyes. I intentionally gathered the energy into a vortex and sent it to my soul families and those needing healing. As a unified community, we sat in immense appreciation of the beauty of the instruments, the sounds of perfect rhythms and harmonies, and the beings that channel this soul music to the world. I felt rocked in a fifth dimensional cradle of love. I felt as if I was traveling through all the emotions and passions of being human, on the waves of beautiful sound. The word play describes it all.
Truly I have developed a new love of jazz, and it was not all smooth jazz, there was plenty of funk and soul music woven in. Maybe my new appreciation is because I am more conscious and awake than I have ever been, or because more of my own soul is present? That's what I am intuiting anyway. I am guessing that's why we took the leap into the first, and then the second cruise; maybe because this is the time of my soul, the time of my life, when I can really enjoy it. The experience of this music in the setting of the cruise, have obviously changed me somehow. The music has imprinted my soul with more color and vibration. I can still hear it inside of me. Gary walks around singing more, and I find myself humming more. I am richer because I gave myself the experience. I love myself more for having given it to myself. What a great birthday gift!
I am expecting this enjoyment to last. I wrote an article a year or more ago, describing the qualities of truth, beauty and goodness (love) that will help us sail gracefully through the coming Great Transition that we are experiencing as a Planet. This sailing  experience was all three: the truth of consciousness through art, the beauty of soul music and cruising as some of the best pleasurable enjoyment that western culture has to offer, and the goodness~love of a community of kindred souls. I wish that everyone could have such an experience.
My brother Matt, who met us in San Diego and lovingly took us from the airport to the cruise ship, really applauded us continuing into the second cruise. He told me this story. His eldest son, who lives in Tijuana, had really been wanting to go to Disneyworld for his birthday and Matt had been knowing he wanted to take both his sons together for a few years but just had not done it. So, a few weeks ago, he made the decision and just did it. They all had the best time ever and he is so glad he followed his inner prompting and made it happen. He has a good feeling and great memories.
I highly recommend doing something outrageously generous for your soul today, or this week, or this month.
Peace, Love, and Soul to you!