Watch for our webpage coming soon here on our 2020 event: Stars, Stones and Stories of Wales, Avebury and Wiltshire at Crop Circle Season!
July 25 through August 7th 2020
For the sixth year in a row, SAMS co-founder and creator of the Shamanic Astrology Paradigm, Daniel Giamario, will collaborate with Shamanic High Priestess Anyaa McAndrew of Full Moon Sanctuary on another Renaissance of the Sacred Feminine adventure. We will return to Scotland, in the Fall of 2019.  Join us in Glasgow to begin our journey by coach to the beautiful Argyle~Kilmartin Valley area (western Scotland) for 6 nights, then to the Isle of Lewis (the largest island of the Western Isles or Outer Hebrides. 
contact anyaamcandrew@gmail.com

RENAISSANCE OF THE SACRED FEMININE:
STARS, STONE & STORIES OF SCOTLAND 2019
Highlights by Daniel Giamario:
As always, on many of the mornings, our groups include classes within the context of the Shamanic Astrology Paradigm™ This adds to the group bonding experience, as well as providing an effective means of expanding our archetypal possibilities as we merge our past, present, and future selves. The astrology and astronomy of each day will be accessed.
Our adventure together has two distinct parts– 
Part One:  Argyll, Kilmartin Valley, and Iona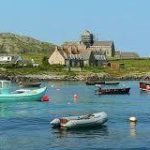 After arriving in Glasgow, Scotland, and boarding our coach, we have a 2-3 hour bus ride through gorgeous Loch (lake), towards Oban, through the Kilmartin Valley.  Our base is intended to be 2 hotels an hour from Oban, one for  4 nights (a spa hotel) and one in Oban, for 2 nights.
From our base each day, we will have the opportunity to journey to the Kilmartin Valley, my second favorite location in all of Scotland.  The following wonders will be available for us to experience: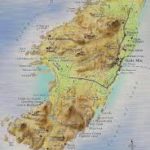 Many stone circles and stone rows, some oriented towards lunar standstills.

Extensive Pictish cup and ring panels.

The infamous and mythic Corryvreckan Whirlpool, off the coast between Jura and Scarba, which some say is where Odysseus tried to journey through on his way home, suggesting that he was originally from Scotland (the island of Barra).
The Dunadd Hillfort remains from the 6th century, which local tradition suggests as the actual original location of Camelot and King Arthur.

Then, the great highlight on Sept 7th, our 6th day: a day journey to the island of Iona, off the coast of Mull. Iona is an amazing mystical island, outside of time, that some say

is

the original and true location of Avalon.  Iona has very few rooms, and most pilgrims arrive for a day experience.  We will take a coach from our hotel across Mull, and then a short ferry to the island. 

Beautiful lush countryside at a great time of year.
Part Two:  The island of Lewis and Callanish
After 6 nights in Argyll, we will take a coach to the island of Lewis in the Outer Hebrides.  We will pass through the islands of Skye and Harris, using several ferry crossings on the way up to Lewis.
This is the third time that Anyaa and I have taken our Renaissance of the Sacred Feminine groups to Lewis and Callanish. This is my number one favorite place in Scotland. Once again we will stay in our favorite small boutique hotel, the Doune Braes, just a few miles from the major stones of Callanish: the greatest and most powerful stone circle in the world, in my experience.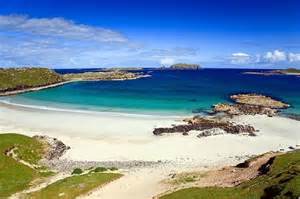 Once again we will have the opportunity to make many visits to a variety of stone circles, offering great options for the ceremonials that we generally carry out on these trips, always including Sacred Marriage and an ancestor forgiveness ceremony. We also journey to a beautiful and quite remote beach nearby for ceremony. Virtually every site is oriented and connected with the Cailleach, known locally as either "the old woman of the Moors" or "Sleeping Beauty".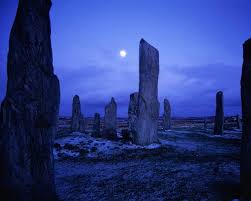 Being at the Callanish stones was a singular initiatory experience for me when I first was there in 1984, which in many ways began the deeper essence of my involvement with Shamanic Astrology. It has also changed the lives of others that I have known. It is not to be taken lightly, as a place where shadow and light are quite extreme. It's also where the Great Shining One's are still energetically present.
If you feel the deep calling for personal transformation,  and want to connect with our ancient lineage as pre-patriarchal and gylanic humans, this trip is for you!
September 2nd through 15th, 2019  

TENTATIVE ITINERARY:

 
Arrive at the Glasgow International Airport (GLA) before 1 pm on Monday, September 2nd
Board a bus (we will have a F/T professional driver this year) and head to the beautiful Argyll area (a 2-3 hr drive) of the Scottish Highlands for 4 nights in        https://www.crerarhotels.com/loch-fyne-hotel-spa 
Then 2 nights in

Oban at 

http://www.regenthoteloban.co.uk/

as we will be taking a day BUS and ferry trip to the island of Iona by special request of our 2018 participants

….

Oban is on the sea.

on Day 7 we leave by 8-hr bus trip (Sunday, September 8th) by way of the Isles of Skye and Harris including several Ferries to the Isle of Lewis to the area of the Callanish Standing Stone Complex, for 6 nights to our favorite boutique hotel: http://www.doune-braes.co.uk/

Return by bus to Glasgow for one night 

here

 (Saturday, September 14

th

) before we head home via the Glasgow airport.

Fly out of Glasgow (GLA) on Sunday, September 15

th

. Or, stay over for your own extended adventure.
NOTE:
All Tuitions are all-Inclusive Full Breakfast, Dinner, Bed and local transportation, entrance fees and misc. materials

Alcohol and Lunches are on your own if you choose to have lunch. Full Scottish breakfasts can fill you up for the day!

We have a limit of 8-9 single spaces, and 10-12 double spaces available this year (20 total), so register early.

|

If you choose double accommodations, 

you may be roomed in a triple room for up to 6 nights

, depending on our hotel and our registrations.




Our tuition is approximately 10% higher

than

2018 due to the exchange rate in Scotland which is based on the Pound, rather than the Euro.

 Contact Anyaa at 

anyaamcandrew@gmail.com

 or 828-788-0773 to make payment arrangements. We prefer 

PayPal friends and family or you pay the fee, 

or a check or money order which allows us to keep our tuitions as low as possible.
TUITION:
General Registration after May 1st or till full
v  SINGLE Pay in Full: $5,840
v  DOUBLE Pay in Full: $4,670
v  SINGLE with $1,000 deposit, balance due July 15th $6,110
v  DOUBLE $1,000 deposit, balance due July 15th $4,940
CANCELLATION POLICY:
Cancellation before March 15th: $500 admin. fee;
Cancellation between March 15th and May 1st: $750 fee;
Cancellation between May 1st and June 15th: ½ of total paid is refundable (if payment schedule has been met).
Cancellation after June 15th, no refund is available (but you may transfer your tuition to another participant).
Our Vision Statement:
We are dedicated to the awareness and preservation of global humanity's connection to its Feminine, Earth Mother, Mother Goddess and matrilineal roots. We create together at sacred sites to reanimate these connections and to help re-dream a new world, founded on gylany, the collaboration of Masculine and Feminine as equals, and without hierarchy. We utilize a group context of Shamanic Astrology and Sacred Earth/Sky ceremony. We specialize in experiencing ancient megalithic sites and sacred landscape around the world, connecting with local experts in each area. We have a particular love of the time-frame of the Neolithic golden age, 2000-4500BC. We feel it to be possible, and even necessary, to reconnect to our ancient DNA and karmic memories of the far longer time in human history, encompassing 200,000 years, when global humanity lived in much greater harmony and peaceful cooperation. Perhaps we can find out who we are and discover what actually happened!
Ceremonially experience the powerful cosmological alignments of September 2019 and beyond and hear about powerful aligfnments in 2020
Open to the mysteries and magic of the Scottish Highlands and Upper Hebridean earth temples through teachings and direct experience
C

onnect  with the ancient stories of the Celtic and pre-Celtic Sacred Feminine & Masculine
Connect astrology with the night sky
Experience the organic reality of the Hermetic dictum: "As Above, So Below," with the sacred landscape and the night sky alignments in the area.
Explore the full spectrum of the feminine and masculine archetypes
Explore our genetic and spiritual lineages, and work with the ancestors
Vision New Earth weaving  the archetypes into the Shamanic Astrology of your own personal chart


Co-create a clan of like-minded souls sharing depth, insights, and wisdom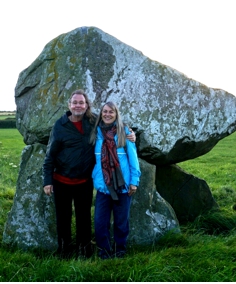 The Renaissance of the Sacred Feminine 
Together with Shamanic Astrologer and ordained high priestess Anyaa McAndrew and in affiliation with SAMS, we have developed an organization called Renaissance of the Sacred Feminine. Anyaa is a seasoned (and certified) Shamanic astrologer, facilitator of priestess circles, and psychotherapist with more than 42 years of experience in the sacred work of emotional and spiritual healing.
The purpose of this organization is to facilitate reconnection with ancient sacred sites around the world thus reanimating within ourselves the early, more authentic roots of who we once were – and can again be –  in our full expression as human beings.  In particular, to connect with those roots grounded in matrilineal, gylanic, and peaceful ways of existing wherein humans are not the dominators or overlords of creation, but conscious collaborators living in accord with the balance and wisdom of "as above, so below".  During the much wider time frame of our true history ('herstory'), men and women were collaborative and cooperative allies in mind, body, soul, and spirit.  It is only in the last 3000-4000 years, with the emergence of Patrilineal family structure, hierarchical patriarchy, and the rise of monotheistic religions, that we have arrived at the world as we know it today.  (This does not exemplify evolution, by the way! In fact, we refer to it as a triple aberration.)
At Renaissance of the Sacred Feminine, we believe that in order to dream and create a new, healthier world we are best served to make contact with the energetic essence of those earlier, more egalitarian times. This is not so that we can 'go back' to recreate those times, but so that we can from these progressive roots move forward in new, more balanced ways. We are not antiquarians doing this out of nostalgia, nor are we attempting to empower an emergent matriarchy as simply a reverse of patriarchy. Our purpose is to inspire and activate a true renaissance, building on the best of the great mother cultures and infusing these with visions of gylany, bringing to an end the dominator ethos and warfare while at the same time committing to a sustainable planet for future generations and a "planetarization of consciousness" (to use the words of my mentor, Dane Rudhyar).
Given the intentions of Renaissance of the Sacred Feminine, Anyaa and I feel there is no better place that we know of to connect with the energies of the sacred feminine than in Ireland and Scotland. The trip in September, 2016 will be my 12th to the standing stones of Callanish.  I hope to continue going back until at least the next outer lunar standstill in 2025 when the moon will again magically walk on the land.  Anyaa currently conducts priestess circles in Ireland and Scotland and will be facilitating her next international priestess training in Inverness (Scotland) immediately following our time together at Callanish.
Enhancing your knowledge and experience of Shamanic Astrology
All of our journeys include immersion in the overall context of Shamanic Astrology. No previous exposure to Shamanic Astrology is necessary in order to fully enjoy the guided depth and magic of this trip. Many topics have been highlighted in our times together, such as the inner sacred marriage process of Venus and Mars; the Lunar Standstill cycles; and 2013's and 2017's popular topic, crop circles.  In addition to astrology, our classes include a wealth of material on the mythic roots of the unique places we will visit.  Our classes are held in Sacred circle and, in this way of teaching and learning, music and dance are central.

About Daniel and Anyaa
Daniel Giamario is the Founder-Emeritus and Senior Advisor of the Shamanic Astrology Mystery School and the creator of the Shamanic Astrology Paradigm ™, also known as TheGiamarioApproach ™.  His work weaves together cross-cultural mythology, archaeoastronomy, archetypal psychology, spirituality, world travel to ancient sacred sites, and a variety of astrological traditions. He has previously facilitated many trips to Ireland, Scotland and England, as well as Portugal, Peru, Bali and Hawaii. Daniel has been an astrological consultant and pastoral counselor for 49 years. He is the author of "The Shamanic Astrology Handbook", the Shamanic Astrology Divination Card Deck, and his newest book is "The Origins of the Shamanic Astrology Paradigm". Daniel is also a certified Shamanic Breathwork ™ facilitator. He has teamed with Anyaa McAndrew in creating and facilitating the Renaissance of the Sacred Feminine for the past six years.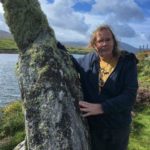 My love is for the stones and the stars, and their connection with each other. When I journey to Erin (Ireland), Alba (Scotland), and Albion (Great Britain), I seek out the megaliths, and the older the better. At each place, I seek the oldest creations of our forebears. I've consistently placed myself within the nascent "Neolithic Revival". Neolithic times featured a balance between agriculturists and hunter-gatherers. Evidence attests to this culture as being gylantic, that is, with an equality between women and men, with limited warfare, and a society of collaborative cooperation. Most of all, these times in our history saw the development of a spirituality that perceived human beings as part of nature, as part of creation, not separate from, or above the sacred earth, that is our Mother. For there to be a chance to again create a human society that honors gylany, and a collaborative equality between women and men, it is critical to recognize and participate in the Renaissance (rebirth and revival) of the Sacred Feminine. Hierarchical patriarchy, patrilineal family structure, and monotheistic religions have been in charge long enough.
One way of experiencing this renaissance or rebirth is to journey to the powerful sacred sites where the magic of the pre-patriarchal times still lives and inspires. We journey to the places where the Sacred Feminine still waits to animate us. For me, the sacred sights of Ireland, Scotland, and England still hold this magic. These places can still reactivate our dormant DNA heritage, that thrives on the experience of connecting land and sky, soul and spirit, stones and stars.
Anyaa McAndrew,  is an Ordained High Priestess, a licensed Transpersonal Psychotherapist, a certified Shamanic Astrologer and Shamanic Breathwork™ facilitator. Her early work expressed through the lens of 2nd wave feminism integrated with transpersonal psychology and spirituality in the Midwest. Anyaa synthesizes 43 years of work with women into an integrated perspective that is highly accessible and spiritually empowering in these transformational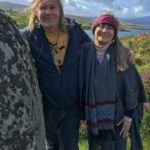 times. As creatrix and seasoned facilitator of the Shamanic Priestess Process™, she brings a love of the Celtic lands, the Sacred Feminine and a passionate for Shamanic Astrology together in this journey into Psyche, Spirit, and Landscape. Anyaa was a part of an earlier facilitation team with Daniel, investigating Callanish in 1996, returned to co-facilitate in 2014, and again in Avebury and Wiltshire in 2015, and with Daniel in Ireland and Scotland in 2016, Ireland in 2018, and they are returning to Callanish in 2019.
www.goddessontheloose.com
anyaamcandrew@gmail.com
828-788-0773
ASTROLOGY, ASTRONOMY, and COSMOLOGY FOR SCOTLAND 2019
September 2nd-14th, 2019
Sun moves from 10Virgo to 22Virgo  
Moon begins in late Libra and moves up to late Pisces, waxing phases, beginning just after New Moon (August 30) and we end with the Full Moon at 21Pisces05
Mercury, Venus, and Mars will all be invisible and in the exterior underworld the entire time! This is quite an unusual situation. Here are some of the highlights:
Venus conjunct Mars on August 24th (before we begin) at 4Virgo07
Sun conjunct Mars on September 2nd at 9Virgo41
Mercury conjunct Mars on September 3rd at 10Virgo37
Sun conjunct Mercury on September 3rd at 11Virgo
Mercury conjunct Venus on September 13th at 28Virgo47
Venus will rise from the underworld as evening star on September 19th; Mars rises from the underworld as morning star on October 16th, and Mercury is in the exterior underworld from August 26th-September 15th.
Jupiter as evening star moves from 15-16 Sagittarius about 84-85 degrees from the Sun
Saturn(R) as evening star moves from 14Capricorn06 to 13Capricorn55 about 120 degrees from the Sun
Uranus (R) around 6Taurus
Neptune (R) around 17 Pisces
Pluto (R) around 20Capricorn50
The Lunar Nodes move from 16Cancer07 to 15Capricorn18  
SOME ADDITIONAL SPECIAL HIGHLIGHTS
Friday September 6th: Moon conjunct Jupiter near galactic center with furthest South Lunar declination…We will be able to replicate the lunar standstill phenomena in the Kilmartin valley.
Sunday September 8th : Moon Occults Saturn at 14Capricorn
Tuesday September 10th: Sun opposite Neptune at 17Pisces20
Additionally. during our entire time Saturn is quite close to the South Node.
SUNRISE AND SUNSETS IN OBAN/KILMARTIN
Sept 2-6 in Kilmartin
sunrises from 6:27am to 6:35am
sunsets from 8:14am to 8:04pm
Sept. 7-13 Stornoway
sunrises from 6:37am to 6:50pm
sunsets from 8:08pm to 7:51pm
Kilmartin average daily temperature  high 66 low 45
Stornoway average daily temperature high 55 low 43

 
More on Renaissance from Daniel: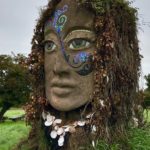 This is a time of the renaissance of the Sacred Feminine.  Only recently in human history have hierarchical patriarchy, patrilineal family structure, and monotheistic religions dominated the planet.  A foundational principle of Shamanic Astrology is that the universe is, in essence, Female.  And the Divine manifestations of the One Reality are her actional expressions. Her names include Shakti, Ananke, Boand, Great Mother, etc.  Until recently this knowledge and experience permeated the entirety of global humanity.  A favorite is Great Mother~Great Mystery. 
The noun renaissance refers to rebirth and revival, literally the resurgence or reawakening of life, vigor, and interest.  At the core of the Shamanic Astrology paradigm is the understanding that our current, prevailing (and arguably oppressive and imbalanced) cultural attitude is the result of centuries of influence and judgment that have supported certain approaches to being human while invalidating others.  Within a framework of patriarchy, for example, the male principal is elevated beyond all others.
At this renaissance time of the Turning of the Ages, it is critical that we re-discover, validate, and embody the full spectrum of human potential, including all the different possibilities available to women and men, so that we can celebrate the full expression of both male and female principals and consciously participate in dreaming the dream onward.
"Renaissance" means to go back to the prior truths in order to inspire and re-animate (rebirth) the new era.  We will experience this through the magical link between the land and the sky, which is the literalization of the hermetic dictum "As Above So Below, As Within, So Without."  The Shamanic Astrology Mystery School also re-dreams the Sacred Feminine by invoking and reenergizing the full spectrum of the feminine in both women and men.  This includes the welcoming and recognition of the new expressions of the Goddess and God that are emerging at this time of the Turning of the Ages.
Suggested reading for Scotland
Callanish Stones, Moon and Sacred Landscape, by Ron and Margaret Curtis
Margaret has been our guide to the stones and teacher and inspiration to Daniel. She has written many books, all of them can teach you about Callanish.
The Memory Code: The Secrets of Stonehenge, Easter Island and other Ancient Monuments, by Dr.Lynne Kelly 2016    This is a profoundly important book about the use and purposes of megalithic monuments. A revelatory read!
Alexander Thom: Cracking the Stone Age Code, by Robin Heath 2007  Robin was our guest teacher in Wales in 2017. This wonderful book will introduce you to the remarkable man who first recognized Callanish for what it was, re-discovered the "Lunar Standstill", and figured out the metrology of most all megalithic monuments. Robin also discovered the 'silver fraction'. Thus showing how to marry the Sun and Moon.
Island of the Setting Sun, by Anthony Murphy and Richard Moore
About Celtic cosmology, history, and megalithic monuments
Mythical Ireland:New Light in the Ancient Past, by Anthony Murphy 2017 whilst these two books are not actually about Scotland, no one does a better job of illuminating and explaining the megalithic golden age, applying equally to Scotland.
Odysseus and the Sea Peoples, by Edu Nyland
Concerning the ancient history of the people of the goddess and their arrival in Scotland and Ireland.
Before the Pyramids by Christopher Knight and Allan Butler
About the henges of Northern England, describing Orion before the Pyramids.
Earth Memory by Paul Devereux
Describes the ceremonial purposes of ancient megalithic monuments.
From Carnac to Callanish, by Aubrey Burl
Detailed guidebook to stone rows and recumbent stone circles throughout Scotland and Ireland.
Queen Maeve and
The Irish Bull God
Sylvia Perrera
Jungian investigations of Irish and Celtic mythic stories of the masculine and feminine.
Outlander (series of books) by Diana Gabaldon
Evocative novels about Scotland.
Also now a highly enjoyable TV series in its 4th year.
ADDITIONAL RESOURCES
Episode 7 of the "Further Adventures of Shamanic Astrology" video series entitled: "Renaissance of the Sacred Feminine".
Go to https://thegiamarioapproach.com/adventures-shamanic-astrology/ and scroll down to episode 7.
Testimonials (from 2014-18):
"Perhaps it was a bit mad to set off for mystical Ireland and a Scottish island at the edge of the world during an eclipse window and Mercury retrograde. But no worries with Daniel's mastery of the land and Anyaa's expert weaving of the organizational details. We began at the Cave of the Cats and a modern-day bard's rendition of the "Irish Iliad," a complex tale about Queen Maeve and her cattle. We ended at a Callanish stone circle dedicated to the Triple Goddess and the Green Man surrounded by an inquisitive and diverse herd of cows and bulls. In between were the stars, stones, stories, tears, laughter, and friendship forged in magic and miracles. Thanks for the dates for next year's adventure. Let me know when sign up begins! xoxo" Robyn
"In planning and looking forward to my trip with Daniel and Anyaa to Scotland and Ireland I was in high anticipation about what I would experience and incorporate into my life upon return. I had high expectations and what this pilgrimage brought to my life far exceeded any hopes. The knowledge and wisdom brought by our teachers, and the guides that joined our group to share their life's passion with us answered many questions and I think more importantly opened the doors to ask many more. The participants that were attracted to gather was a blending of worldwide backgrounds that enhanced our daily journeys and deepened my life in ways that are only now surfacing. The respectful nature of all for quiet as we meditated with the stones and passage cairns allowed a joining with nature and the ancients that was beyond powerful. And then over dinner, as we shared our lives and our stories—laughter and connection filled the atmosphere as we enjoyed amazingly good food. I hope to make more trips happen with the Renaissance of the Sacred Feminine and I look forward to bringing this past experience into expression in my daily life as I brought home much to ponder and explore. Thank you for a beyond wonderful experience. I am more today than I was before this experience." Lyn Goldberg
"I so appreciated the beautiful way our Irish adventure unraveled and blossomed due to all the skillful planning and choreography, from the decadently delicious and luxurious Castle of Killronan to the amazing and extraordinary building and alignment skills of the Stone Age builders of Newgrange, to my meeting with the fairies on Loughcrew! I simply reveled in the beauty of the Irish energy and exquisite landscape, and so honor my roots my ancestors planted there. For me personally, this journey was also a sharp shift phase – completions and releases and opening up and moving on, once I had accepted my mystical instructions. Who knows whether I shall have a fourth opportunity to share another extraordinary journey with you and Daniel, but I know if I am meant to be present, I will surely be there!"  Jennifer 
"I have been fortunate enough to be with Daniel and Anyaa on both the 2014 journey to Callanish and the 2015 Circle in Avebury. Both occasions were richly nourishing to both soul and body: the locations and the landscapes were stunning, the Standing stones, the Crop Circles, and the Long Barrows calmly vibrating with the richness of ancient history and ingrained ceremonial devotion of the ancestors to the Great Mother and the Celestial Mysteries. Daniel's teaching made the old ways of our Celtic ancestors so accessible and appealing, and his first-hand tuition about the current influences of the celestial bodies was a privilege. It goes without saying that the energies of the ancient sites and stones must be experienced personally to be believed. All this together with most comfortable accommodation and wonderful food makes these getaways an unforgettable experience for those yearning for the time and space to explore the lovemaking between Spirit and Matter, and personal inner connectedness to the As Above and the So Below in a safe and contained Circle ably held by Anyaa and Daniel. I can highly recommend these Journeys and am already greatly excited about the anticipated 2016 trip to Ireland and Scotland on the horizon!"
"My experience with the 2015 Stones and Stars -Sacred Sites and Crop Circles deeply affected my heart and psyche. The teachings about sacred union, the depth at which the ancient peoples understood and lived this truth were profound for me. History, astrology, legend, archaeology were all magically interwoven. The circle was expertly guided and safely bound by Anyaa and Daniel. Excellent adjunct teachers/ facilitators were incorporated to make the experience even richer. The experience was both very personal and more global, as different cultures and their immigration patterns were discussed, and how these factors related to us today- indeed, how they should relate even more than many of us know! I highly recommend Daniel and Anyaa as guides, teachers, and organizers of such transformative journeys like this one."
"Many workshops offer beautiful settings and tourist sites like in Scotland, Egypt, or some exotic island. But what made the Callanish Renaissance of the Sacred Feminine workshop stand out for me is the experienced and genius combination of Nita, Daniel, and Anyaa as facilitators.  They each brought their own wisdom and style during the classes, and even though we were a large group, everyone was deeply honored and heard.  The Renaissance workshop offered me insights about the earth and my life– from three master teachers!"
"My week at Callanish was one of the most transformative experiences of my life. We spent our days learning in the most delightful Scottish Inn located in the majestic Scottish countryside from the brilliant Daniel Giamario.
"Daniel eloquently lectured on Sacred Marriage, the Sacred Stone Sites and Shamanic Astrology. The inspiring and powerful Anyaa McAndrew and Nita Gage both lectured, as well as took us on two beautiful Shamanic breathwork journeys."
"These experts created one of the most nurturing and safe environments I've been in. There was space for everyone's voice to be heard and experience honored, allowing us all to have a true exploration of the soul."
"The most mystical and heart opening experience I've ever had was visiting the Sacred Stone Sites, which altered my perception of myself and this magical universe we live in"
"I am so grateful for having had this experience, I can't say enough good things. If you are on the spiritual path this is a most pertinent stop."
"The Scotland/Callanish Renaissance of the Sacred Feminine trip was an adventure into beauty, wonder, and magic that I'll never forget…. a once-in-a-lifetime experience. Daniel, Anyaa, and Nita are a wonderfully balanced team that led us through ceremony and altered states combined with lots of factual information about the sites. If you are considering the next adventure, don't even hesitate. You'll be so glad you said "yes," as I was! " Amrita Grace, Maui, Hawaii
http://breastcancermysteryschool.com/
My April 2014 trip to Callanish, Scotland with Daniel, Nita and Anyaa was a life changing experience for me. The magic of this sacred timing at these sacred stones of the Divine Feminine had value beyond anything I could imagine. There is truly magic in these ancient sites and they speak to us. All we need to do is ask and listen Mary Kern, Sonoma County, CA
Enjoy articles by Anyaa on 2015 and 2014 excursions:
Merging with the Ancestors: The Adventures of the Crop Circle Clan August 2015
by Anyaa McAndrew
We gathered together in South West England from many places: our South African crystal skull carrier Jennifer the furthest, then Daniel in the Philippines, then Jacqueline living in Tuscany, and from Kansas City, Cincinnati, Atlanta, Washington state, Central Florida, and North Carolina. Our local right side-of-the-vehicle, left-side-of-the-road drivers Christina and Sara live the closest. We are a friendly and enthusiastic bunch. We have been connecting by email for months, and many of us are in interconnected circles, students of Daniel, priestesses in my lineage, and like-minded adventurous souls. The cross-quarter time of Lammas, Venus's close conjunction with Mercury and Jupiter and her movement into the Underworld to transform into her incarnation as Leo, all set the cosmological stage. – Read More…
Reflections on our 2014 Callanish Clan Journey
Callanish, the Sacred Feminine and the New Earth: On the Grand Cross of 2014
by Anyaa McAndrew
When we know about the sacred timings and choose to participate in them, we have the capacity to influence the outcome of things. Events are not pre-determined. Consciousness is what the Universe is made of, so as we add our own conscious intent to the great forces at play, there is the possibility that we just might help move events along in a direction that we want them to go. In this case, our direction and intent on our trip to Scotland were to re-connect land and sky, soul and spirit, masculine and feminine as it once was in pre-patriarchal, pre-Celtic, Neolithic times. – Read more…