"Priestess Within" Audio Book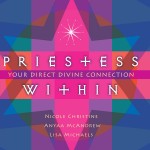 The Priestess Within Audio Book with Nicole  Christine, Anyaa McAndrew & Lisa Michaels, is now available in digital format.
It's on-line and available to download 24/7.
So no matter where you, your friends, or your potential circle members, are in the world, if there is internet access, this timeless priestess wisdom can be downloaded immediately.
To find out more click here.