Renaissance of the Sacred Feminine: Stars, Stones & Stories of Ireland 2018
This webpage is under construction, check back for more added on our journey to Ireland in 2018!
August  26th-September 8th, 2018


with




Daniel Giamario & Anyaa McAndrew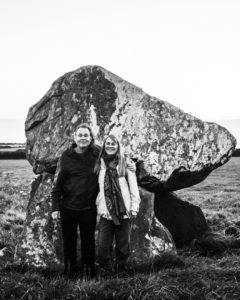 with special guest teachers:
Jack Roberts, Chris May & Anthony Murphy
We have the best guides and teachers that Ireland
has to offer for fully experiencing the ancient and
still present magic and mystery of megalithic
Ireland, the stones, the stars, and the sacred landscape.
Our Vision Statement:
We are dedicated to the awareness and preservation of global humanity's connection to its Feminine, Earth Mother, Mother Goddess and matrilineal roots. We create together at sacred sites to reanimate these connections and to help re-dream a new world, founded on gylany, the collaboration of Masculine and Feminine as equals, and without hierarchy. We utilize a group context of Shamanic Astrology and Sacred Earth/Sky ceremony. We specialize in experiencing ancient megalithic sites and sacred landscape around the world, connecting with local experts in each area. We have a particular love of the time-frame of the Neolithic golden age, 2000-4500BC. We feel it to be possible, and even necessary, to reconnect to our ancient DNA and karmic memories of the far longer time in human history, encompassing 200,000 years, when global humanity lived in much greater harmony and peaceful cooperation. Perhaps we can find out who we are and discover what actually happened!
About the Trip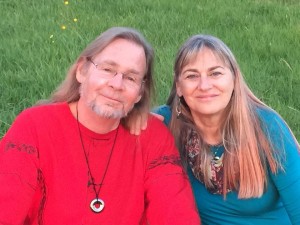 For the fifth year in a row, SAMS co-founder and creator of the Shamanic Astrology Paradigm, Daniel Giamario, will collaborate with Shamanic High Priestess Anyaa McAndrew of Full Moon Sanctuary on another Renaissance of the Sacred Feminine adventure. For 2018, we will return to Ireland, adding the Dingle Peninsula, home of the best of Traditional Irish music.


Ceremonially experience the powerful cosmological alignments of August and September 2018 and beyond

Open to the mysteries and magic of the Ireland earth temples through teachings and direct experience

C

onnect  with the ancient stories of the Celtic and pre-Celtic Sacred Feminine & Masculine

Connect astrology with the night sky

Experience the organic reality of the Hermetic dictum: "As Above, So Below," with the sacred landscape and the night sky alignments in the area.

Explore the full spectrum of the feminine and masculine archetypes

Explore our genetic and spiritual lineages, and work with the ancestors

Vision of New Earth weaving  the archetypes into the Shamanic Astrology of your own personal chart

Co-create a clan of like-minded souls sharing depth, insights and wisdom
Itinerary
You can anticipate outdoor excursions nearly every day, weather permitting. Our classes here will be a mix of Shamanic Astrology, mythopoetic stories, cosmology, and alternative history (herstory).
Why Ireland?



The primary inspirations for the emergence of the Shamanic Astrology paradigm and the formation of the Shamanic Astrology Mystery School* (SAMS) arose out of my direct, personal experiences of the numinous in landscapes that I would describe as sacred. My initial spiritual and shamanic initiations took place among the stone circles and landscapes of Scotland, most notably the intricate and beautiful Callanish complex on the Isle of Lewis There is no place on earth quite like Callanish, which over the years has greatly informed SAMS's understanding of and teachings about lunar standstill cycles and Neolithic astrology in general.
My transformational experiences in Ireland came later, after 2000.  I followed a calling to explore the sacred landscapes here, particularly in Western Ireland (mainly in the Sligo area).  I was ecstatic to find round, green hills that resembled female breasts with nipples made of rock cairns, formations created over thousands of years by pilgrims in ceremony.  I also located many chambered cairns (tumuli; singular tumulus) and standing stones, dotting the landscape seemingly everywhere I looked.
With me always in these explorations is the palpable presence of the Tuatha de Danann, the 'people of the Goddess', who presided over a 2000-year time period of peace lasting up until 1500 BC.  In those times men and women lived as allies, or gylanic equals.  The ceremonial sites they created reflect an architectural intent to bring into balance sun and moon, land and sky, and the elements of male and female.  It was a time of reverence for the Mother Goddess, of human harmony in cooperation with nature, and an intentional culture living the essence of an "as above, so below" cosmology, literally bringing heaven to earth.
The Renaissance of the Sacred Feminine 
Together with Shamanic Astrologer and ordained high priestess Anyaa McAndrew and in affiliation with SAMS, we have developed an organization called Renaissance of the Sacred Feminine. Anyaa is a seasoned (and certified) Shamanic astrologer, facilitator of priestess circles, and psychotherapist with more than 42 years of experience in the sacred work of emotional and spiritual healing.
The purpose of this organization is to facilitate reconnection with ancient sacred sites around the world thus reanimating within ourselves the early, more authentic roots of who we once were – and can again be –  in our full expression as human beings.  In particular, to connect with those roots grounded in matrilineal, gylanic, and peaceful ways of existing wherein humans are not the dominators or overlords of creation, but conscious collaborators living in accord with the balance and wisdom of "as above, so below".  During the much wider time frame of our true history ('herstory'), men and women were collaborative and cooperative allies in mind, body, soul, and spirit.  It is only in the last 3000-4000 years, with the emergence of Patrilineal family structure, hierarchical patriarchy, and the rise of monotheistic religions, that we have arrived at the world as we know it today.  (This does not exemplify evolution, by the way! In fact, we refer to it as a triple aberration.)
At Renaissance of the Sacred Feminine, we believe that in order to dream and create a new, healthier world we are best served to make contact with the energetic essence of those earlier, more egalitarian times. This is not so that we can 'go back' to recreate those times, but so that we can from these progressive roots move forward in new, more balanced ways. We are not antiquarians doing this out of nostalgia, nor are we attempting to empower an emergent matriarchy as simply a reverse of patriarchy. Our purpose is to inspire and activate a true renaissance, building on the best of the great mother cultures and infusing these with visions of gylany, bringing to an end the dominator ethos and warfare while at the same time committing to a sustainable planet for future generations and a "planetarization of consciousness" (to use the words of my mentor, Dane Rudhyar).
Given the intentions of Renaissance of the Sacred Feminine, Anyaa and I feel there is no better place that we know of to connect with the energies of the sacred feminine than in Ireland and Scotland. The trip in September, 2016 will be my 10th to the standing stones of Callanish.  I hope to continue going back until at least the next outer lunar standstill in 2025 when the moon will again magically walk on the land.  Anyaa currently conducts priestess circles in Ireland and Scotland and will be facilitating her next international priestess training in Inverness (Scotland) immediately following our time together at Callanish.
Enhancing your knowledge and experience of Shamanic Astrology
All of our journeys include an immersion in the overall context of Shamanic Astrology. No previous exposure to Shamanic Astrology is necessary in order to fully enjoy the guided depth and magic of this trip.
Many topics have been highlighted in our times together, such as: the inner sacred marriage process of Venus and Mars; the Lunar Standstill cycles; and 2013's and 2017's popular topic, crop circles.  In addition to astrology, our classes include a wealth of material on the mythic roots of the unique places we will visit.  Our classes are held in Sacred circle and, in this way of teaching and learning, music and dance are central.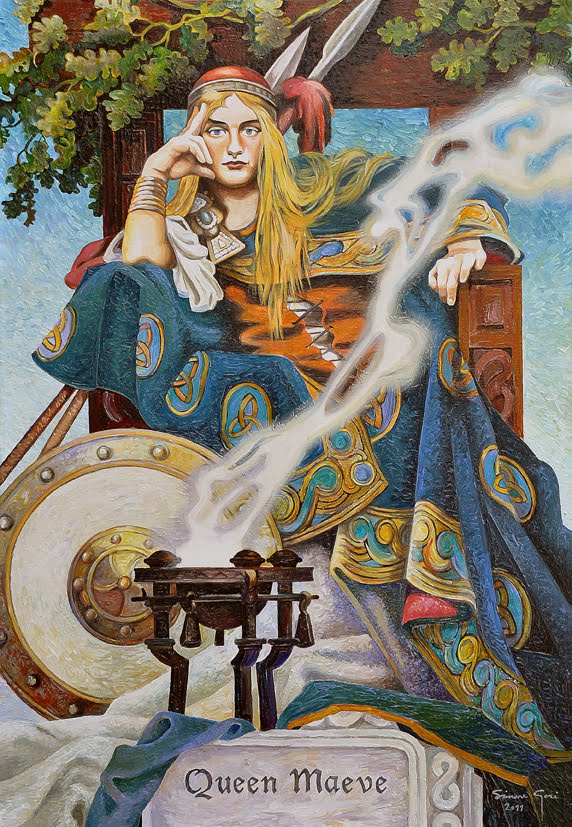 Queen Maeve, the Intoxicating Warrior Queen of Western Ireland.
Knocknarea is said to be Queen Maeve's mound.


.
TRIP HIGHLIGHTS: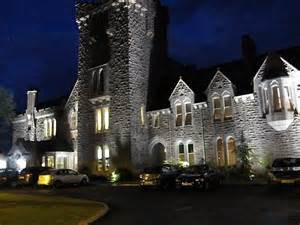 Aug 26-30, 2018 (Western Ireland)

We will spend the first 5 days at Kilronan Castle near Sligo, in the west of Ireland, homeland of W.B.Yeats This is Daniel's favorite part of Ireland. From our castle base, where we will be luxuriously treated to amazing meals, gracious service, and a world-class spa,we will experience the stone circles of Carrowmore, the chambered cairns of Carrowkeel, the caves of Keshkorran, the great hill of Knocknarea (Queen Maeve's mound), and many other wonders of this beautiful sacred landscape with its mythic themes still very much alive today.
Western Ireland
Although the sacred sites of eastern Ireland are generally more well known (e.g. the great megalithic chambered cairn of Newgrange), even older ceremonial centers can be found in the west of Ireland. My absolute favorite part of Ireland is in the west, in the area surrounding Sligo. This part of Ireland is somewhat famous as the birthplace and early stomping grounds of W.B. Yeats, the famous Irish writer, poet, mythologist, and revolutionary (who, by the way, wrote an astrological book in his later years!). What makes this part of Ireland so special to me is the sacredness of the landscape, including the remarkable number of truly ancient megalithic monuments whose power and magic is still intact.
Use of these ceremonial sites – If you were to do your own research, you'd find variation in the way these ancient sites are described, including speculation on their original purpose. The UK refers to them as "barrows" (a mountain, hill, or mound of earth). Most of the mainstream literature, however, describes these sites as "passage tombs", or places associated with burial.
Based on my research and first-hand experience, these places are not primarily tombs or cemeteries. The early archaeologists could only fathom them as such, failing to see them as something more. My personal preference is to use either the expression "chambered cairns" or the more neutral term "tumulus" when referring to these amazing ceremonial sites. They are, in fact, complete hierophanies (physical manifestations of the 'holy' or 'sacred') with extensive astronomical alignments and internal structures reflecting Neolithic spiritual traditions that ceremonialized life, death, and rebirth and upheld a reverence for the Mother Goddess.
Whilst we cannot really know the deepest essence of the way of life of the builders, these special places are tremendously useful for linking us back to our ancestors and reanimating our central trip theme of the Renaissance of the Sacred Feminine. At the core of these sites is a representation of the flowering of a culture that was grounded in ways of life in harmony with the Hermetic maxim "As Above, So Below", as exemplified in the foundational philosophy of the Shamanic Astrology paradigm.
Among the sites we will experience are:
(1) Carrowkeel – 14 different large tumuli located at the top of high ridges overlooking beautiful lakes and round, green, breast-shaped hills with nipple-like cairns at their summits. For thousands of years, pilgrims have carried stones to these hilltops, adding to the cairns, and lit fires upon them at seasonal times. Interesting to note that the Carrowkeel tumuli are even older than Newgrange, indicating that the megalithic tradition spread from the west of Ireland to the east. Newgrange, on the east coast, though not quite as old, very possibly represents the apex of this culture's achievements. This tumulus tradition has been found all over Europe, including Britain, Scandinavia, Northern Germany, the Netherlands, the Iberian Peninsula, Brittany, as well as the Mediterranean (Malta and Sardinia), and even in North Africa. Carrowkeel is dated to be as old as 3400 B.C.
(2) Carrowmore – 3 kilometers west of Sligo town is a massive site of standing stones and numerous tumulus structures. This site aligns with Carrowkeel, Knockneara, and the sites in Eastern Ireland. Dating at the site links back to 4300 B.C.
(3) Knocknarea – One of the largest chambered cairns ever found is at the top of this 1,073-foot hill near Sligo town. It has been recognized for thousands of years as a ceremonial site and remains unexcavated. This hill is famous as the burial site of the legendary Queen Maeve (Medb), the powerful ancient queen who bridged the transition from matrilineal to patrilineal ways. We will revel in stories of Maeve during the Western Ireland portion of our trip. Our group will make a processional journey to this incredible site at the top of Knocknarea, which dates back to at least 3000 B.C.
(4) Hempstead Cairn – This is another massive and unexcavated tumulus in the same general area, close to the legendary battle of  Moyturu: a bloody showdown between the Tuatha de Danann and the Fomorians. The rivalry between these two groups will be one of the central themes of our time together. According to leading writers and researchers including John Moriarty and Jack Roberts, the Tuatha de Danann were a remarkable race that presided over 2,000 years of peace and harmony. They are credited with designing and building the great tumulus ceremonial sites in this part of the world, as well as honoring the Mother Goddess in matrilineal ways. Their ceremonies and megalithic constructions were designed to integrate sun and moon, earth and sky, and male and female, producing harmony and even gylany (a social system based on equality of men and women).
The Tuatha de Danann emphasized that human beings are part of nature and creation, not the overlords and controllers over it. The Fomorians, their traditional adversaries, were patriarchal and have come to represent the desire to control and dominate. The Tuatha de Danann held them at bay for 2,000 years.
Then, around 1500 B.C., the latter patriarchal and warlike Celtic tribes from the continent overran Ireland, overthrowing the Tuatha de Danann. Folklore claims that when defeated, they became the "little people": the sidh, the faeries and elves, or simply those who reside in the hollow hills or in TirNaNog. (Trust me, they're still there! And Ireland still retains her connection to the Mother Goddess and the sacred feminine, as we shall see.)
(5) Other possible places of pilgrimage in the western areas include:
~The ancient royal site of Rathcroghan – the birthplace of Queen Maeve.
~The sacred hill of Uisneach – the center of Ireland and the home of the Beltane festival of fires.
Aug 30-Sept 3rd, 2018 (Far Western end of Ireland)

The second part of our journey will be in the town of Dingle, on the Dingle peninsula of County Kerry, in the very far West of Ireland. Check out here the wonderful hotel we have booked for our group, The Dingle Peninsula Hotel.
Daniel particularly loves this area for a number of reasons. It was here, at the very far Western end of the Dingle peninsula where he wrote a significant portion of his newest book: "The Origins of the Shamanic Astrology Paradigm", a book you can order from the Shamanic Astrology Mystery School or from Amazon.
It's a land of incredibly wild beauty, the mountains, cliffs, beaches, and rocky landscape are other wordly. It's a land of the sidhe and the Tuatha De Danann.  The movie "Ryan's Daughter" was filmed here, and just last year a major scene of the latest Star Wars movie was shot here.
Another great thing about Dingle is that it has the finest traditional Irish music scene in the country. These are known as "Trad Sessions'. A great variety of pubs draw the best musicians from all over. This alone would be enough for a visit to Dingle!
Really close to where I used to stay when I was writing is where the legendary Saint Brendan the Navigator (484-577) set sail for the New World (some say Newfoundland) in the 6th Century as recounted in the medieval text "The Navigatio", and reenacted by British explorer Tim Severn in 1976-1977 proving that it was indeed possible. He describes his journey in the best-seller: "The Brendan Voyage" (1978). This coast is the farthest West part of Europe.
Last, but not least, we will have the writer and researcher, Chris May, as our guest teacher. It was his remarkable book: "The Dingle Diamond" that first inspired me to go to County Kerry in the first place. Chris has such a wealth of knowledge and experience of the Dingle peninsula, and has incorporated sacred geometry, geomancy, and experiential intuition to recover the ancient and still present, magic and mystery of this area. He is also a world-class photographer. His book on the Dingle Peninsula is truly superb.
Sept 4th-7th, 2018 (Eastern Ireland)
Following our four days in the far west, we will travel to the east of Ireland where our base will be the Scholars Hotel in the town of Drogheda. Within proximity to the Newgrange tumulus, these final four full days will give us a chance to savor the great triple site of Newgrange, Dowth, and Knowth, as well as other surrounding sites in the area. Newgrange is the largest chambered caikrn of the world, over 6000 years old, representing the apex of the skills of the ancient megalithic pre-patriarchal culture. 
This general area is the sacred landscape of the River Boyne, with many cosmological, mythical, and astronomical correlations. We will also have a chance to visit the well-known hill of Tara, the ancient seat of Irish royalty, harkening back to the days when the king (or any man) could only attain sovereignty by first marrying the land.
Time and weather permitting, we could also take a short trip over to the Loughcrew Chambered Cairns, a site that is in alignment with Carrowkeel and Newgrange. Just as Newgrange is now attracting thousands each year for its winter solstice alignment, Loughcrew is gaining attention for its equinox alignments.
Drogheda is quite close to the Dublin airport. On our final morning, we will journey to the the airport where we will say our goodbyes.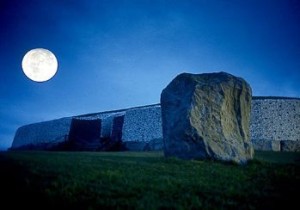 Moonlit Newgrange Burial Chamber and Standing Stone, County Meath, Ireland. Photographer: Tim Hannan
REGISTRATION and TUITION
If you are a SAMS Member (Shamanic Astrology Mystery School) www.shamanicastrology.com)
this is your tuition until Dec 31st:                                                                         
SAMS MEMBERS ONLY:

Single room, all-inclusive breakfast, dinner and lodging, on the ground transportation and entry fees: $4,670 PAY IN FULL!

Double (shared) room, all-inclusive breakfast, dinner and lodging, on the ground transportation and entry fees: $3,570 PAY IN FULL!
Single room, all-inclusive breakfast, dinner and lodging, on the ground transportation and entry fees with $1000 deposit, pay remaining 50% by March 1st, balance paid by in full by June 1st: $4,940
Double (shared) room, all-inclusive breakfast, dinner and lodging, on the ground transportation and entry fees with $1000 deposit, pay remaining 50% by March 1st, balance paid by in full by June 1st: $3,870
FINAL TUITION AFTER Dec 31st TILL WE ARE FULL:

Single room, all-inclusive breakfast, dinner and lodging, on the ground transportation and entry fees: $5,750 (with a $1,000 deposit)
Double (shared) room, all-inclusive breakfast, dinner and lodging, on the ground transportation and entry fees: $4,220 (with a $1,000 deposit)
Register with a $1000.00 deposit, 50% of balance payable March 1st, balance payable June 1st
Cancellation policy:
Cancellation before Feb 15th: $500 admin. fee;
Cancellation between Feb 15th and April 15th: $750 fee;
Cancellation between April 15th and June 1st: ½ of total paid is refundable, if payment schedule has been met;
Cancellation after June 1st, no refund available, but you may transfer it to another participant.
Your Guides and Facilitators: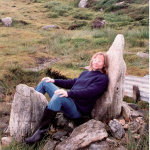 Daniel Giamario is the Founder-Emeritus and Senior Advisor of the Shamanic Astrology Mystery School and the creator of the Shamanic Astrology Paradigm ™, also known as TheGiamarioApproach ™.  His work weaves together cross-cultural mythology, archaeoastronomy, archetypal psychology, spirituality, world travel to ancient sacred sites, and a variety of astrological traditions. He has previously facilitated many trips to Ireland, Scotland and England, as well as Portugal, Peru, Bali and Hawaii. Daniel has been an astrological consultant and pastoral counselor for 48 years. He is the author of "The Shamanic Astrology Handbook", the Shamanic Astrology Divination Card Deck, and his newest book is "The Origins of the Shamanic Astrology Paradigm". Daniel is also a certified Shamanic Breathwork ™ facilitator. He has teamed with Anyaa McAndrew in creating and facilitating the Renaissance of the Sacred Feminine for the past five years.
(520) 955-5153
My love is for the stones and the stars, and their connection with each other. When I journey to Erin(Ireland), Alba(Scotland), and Albion(Great Britain), I seek out the megaliths, and the older the better. At each place, I seek the oldest creations of our forebears. I've consistently placed myself within the nascent "Neolithic Revival". Neolithic times featured a balance between agriculturists and hunter-gatherers. Evidence attests to this culture as being gylantic, that is, with an equality between women and men, with limited warfare, and a society of collaborative cooperation. Most of all, these times in our history saw the development of a spirituality that perceived human beings as part of nature, as part of creation, not separate from, or above the sacred earth, that is our Mother. For there to be a chance to again create a human society that honors gylany, and a collaborative equality between women and men, it is critical to recognize and participate in the Renaissance (rebirth and revival) of the Sacred Feminine. Hierarchical patriarchy, patrilineal family structure, and monotheistic religions have been in charge long enough.
One way of experiencing this renaissance or rebirth is to journey to the powerful sacred sites where the magic of the pre-patriarchal times still lives and inspires. We journey to the places where the Sacred Feminine still waits to animate us. For me, the sacred sights of Ireland, Scotland, and England still hold this magic. These places can still reactivate our dormant DNA heritage, that thrives on the experience of connecting land and sky, soul and spirit, stones and stars.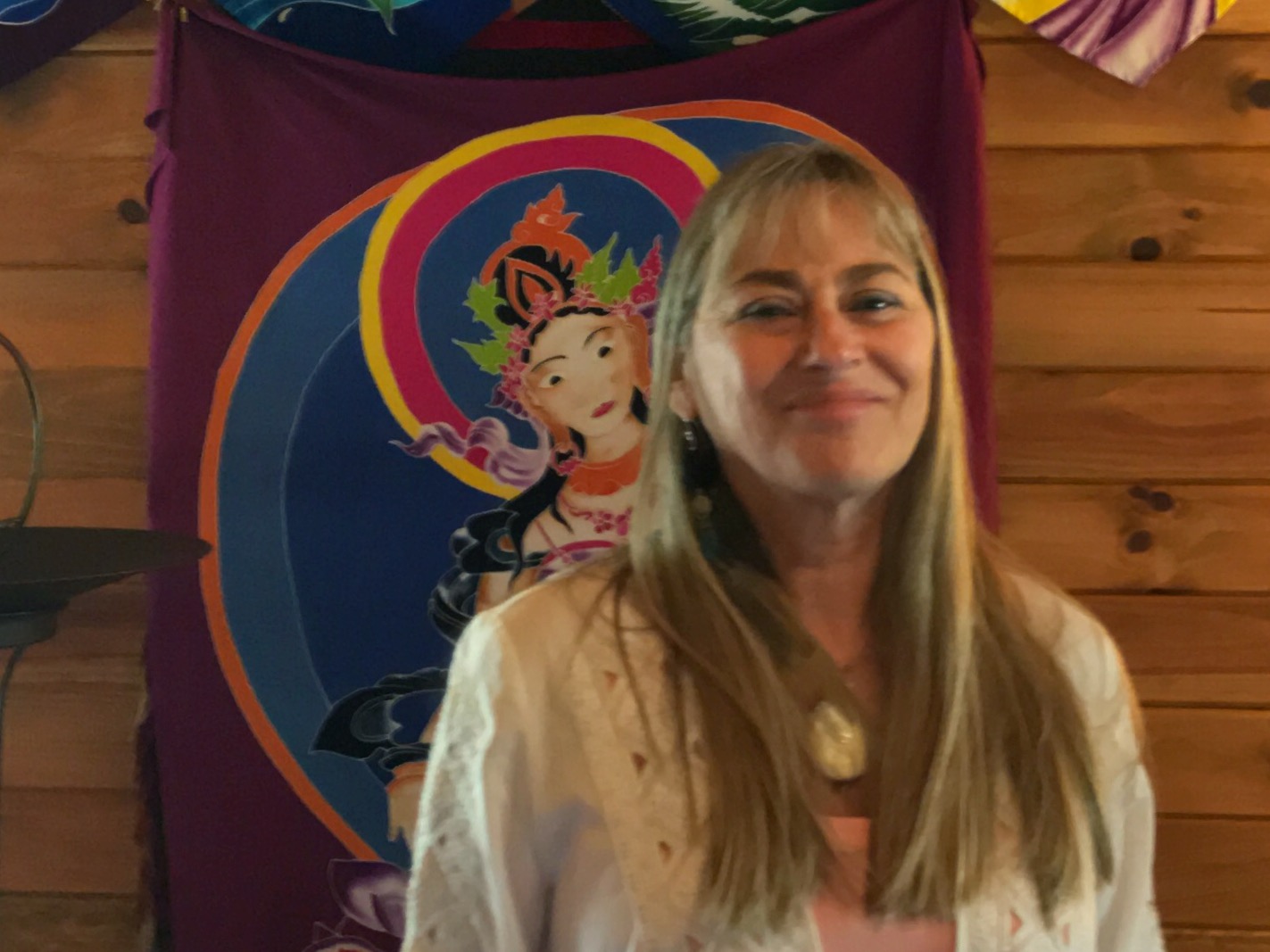 Anyaa McAndrew,  is an Ordained High Priestess, a licensed Transpersonal Psychotherapist, a certified Shamanic Astrologer and Shamanic Breathwork™ facilitator. Her early work expressed through the lens of 2nd wave feminism integrated with transpersonal psychology and spirituality in the Midwest. Anyaa synthesizes 42 years of work with women into an integrated perspective that is highly accessible and spiritually empowering in these transformational times.
As creatrix and seasoned facilitator of the Shamanic Priestess Process™, she brings a love of the Celtic lands, the Sacred Feminine and a passionate for Shamanic Astrology together in this journey into Psyche, Spirit, and Landscape. Anyaa was a part of an earlier facilitation team with Daniel, investigating Callanish in 1996, returned to co-facilitate in 2014, and again in Avebury and Wiltshire in 2015, now journeying with Daniel in Ireland for the second time, first in 2016.
www.goddessontheloose.com
anyaamcandrew@gmail.com
828-788-0773          
We will investigate all places on the Shamanic Astrology Wheel by invoking the Celtic and pre-Celtic counterparts of Divine Feminine and Divine Masculine. We will ask them to inform us and expand us through their wisdom stories, our own direct connection, through their reflections on our own personal charts, through the earth temples and stone circles, and through our connection to the ancestors of these lands. We will ask them to help us dream a new collective dream and weave together a renewed understanding of this Turning of the Ages that is our rich inheritance. We will honor ourselves and them through sacred ceremony. Throughout our 14 days together we will layer our experience with the Celtic archetypes into our work with the sky, the land, and the stones to build a magical time out of time experience that can inspire our return to ordinary reality with the courage, hope, and connection to the sacred that the Celtic world embodies. I look forward to introducing or facilitating your further acquaintance with the Ancient Shining Ones that are our past and future selves!

Our Guest Teachers:
JACK ROBERTS
Joining us will be my friend, Jack Roberts, from Galway, whom I first met when I was writing a book in County Kerry back in 2011. He led a friend and I on a great journey to the standing stones and other sacred sites of the Beara peninsula. Jack worked with Martin Brennan on his brilliant and revolutionary book: The Stars and The Stones, which cracked many codes regarding Newgrange and the cosmological symbolism of the rock art. He also is a leading expert on the Sheela-na-gigs, ancient imagery of the Goddess. Jack will lead us to many of the ancient sites around Sligo, joining us at the Kilronin Castle on Aug.23-24. I always use several of his books whenever I am teaching in Europe, including his latest The Sun Circles of Ireland. He will have his books available, as well as his fine jewelry, when he is with us at Kilronan. You can get to know a bit more about Jack from these links:
CHRIS MAY
Chris lives and works on the Dingle Peninsula in County Kerry, Ireland. Dividing his time between researching the myths and legends of the landscape and photography he can be seen exploring and walking the area in a quest for photographs and legends. The author of the Dingle Diamond, a book that tells the story of the ancient Tuatha de Danaan of Irish legend he is currently writing a book on mythology as a natural history. His award-winning photographic exploration of the area, Atlantic-portrait of an Ocean, and the Dingle Diamond are both available from chris@dinglediamond.com Both books are to be had from Chris or from Dingle Bookshop.
ANTHONY MURPHY
Anthony Murphy, co-writer of the fabulous book , "Island of the Setting Sun", that I often refer to, and his latest, "Newgrange-Monument to Immortality", will be our guide to Newgrange and the surrounding area on August 26th, and then will guide us on an afternoon and early evening journey to the megaliths and chambered cairns at Loughcrew. In my opinion, there is really no one more qualified to guide us for that portion of our trip in Eastern Ireland. I highly recommend these books, and are worth checking out as you prepare for the journey. Here is a link to a recent article of his. http://blog.mythicalireland.com/2016/05/the-boyne-river-carl-jung-and.html. You will be able to see how closely his orientation is to ours!
Daniel: The moon, the stars, and the stones:
Daniel's Cosmology and Astrology for the Ireland 2018 trip
 August 26th-September 8th, 2018
SUN   4Virgo—15Virgo
Sunrises on August 27th:6:32am   Sunsets at 8:37pm   Twilight begins at 4:08am and ends at 10:59pm
Sunrises on Sept.7th:       6:54am   Sunsets at 8:07pm   Twilight begins at 4:45am and ends at 10:14pm
MOON   Travels through Pisces, Aries, Taurus, Gemini, Cancer, Leo.    We will begin just after Full Moon on and end just before the New Moon.
MERCURY   15Leo—3Virgo    Morning Sky 18-16 degrees LEO overtone Apollonian phase
VENUS     19Libra—29Libra    Evening Sky 46-45 degrees ARIES overtone between 6th & 7th gate, just after greatest elongation, and conjunct Spica on Sept.1st.
MARS       28Capricorn36(S)—29Capricorn27   Very bright in Evening sky, beginning phase one of the Aquarian overtone. This is very much a precursor to the remarkable 2020 alignments.
JUPITER   16Scorpio28—18Scorpio08    Evening sky 73-63 degrees
SATURN    2Capricorn(R)—2Capricorn32(S)   Evening sky 111 degrees
URANUS    2Taurus34(R)—2Taurus10(R)   Just recently into a new sign, only every 7 years
NEPTUNE   15Pisces24(R)—15Pisces04(R)    Opposite the Sun on our last day
PLUTO        19Capricorn02(R)—18Capricorn53(R)   wide conjunction with Mars the whole time
N.NODE      5Leo46—5Leo23   Just recently exiting an eclipse season
S.NODE       5Aquarius46—5Aquarius46
CHIRON       1Aries18(R)—0Aries48(R) near Aries equinox
VESTA           24Sagittarius33—27Sagittarius09   conjunct galactic center
ADDITIONAL NOTES
The Full Moon at 3Pisces12 is on August 26th, the Full Moon at 17Virgo00 is September 9th.
Mars is stationary direct on August.27th.
Suggested reading for Ireland

Island of the Setting Sun: In search of Ireland's ancient astronomers, by Anthony Murphy & Richard Moore
The Sun Circles of Ireland, by Jack Roberts
Books by John Moriarty, especially Invoking Ireland
Books by Irish writer and playwright (Isabella Augusta) Lady Gregory, lifelong friend and patron of W.B. Yeats
Books about the Tain Bo
The Stars and the Stones: Ancient Art and Astronomy in Ireland, by Martin Brennan
A Vision, by W.B. Yeats
Queen Maeve
The Irish Bullgod
Sylvia Perrera
Jungian investigations of Irish and Celtic mythic stories of the masculine and feminine.
More on Renaissance from Daniel:

This is a time of the renaissance of the Sacred Feminine.  Only recently in human history have hierarchical patriarchy, patrilineal family structure, and monotheistic religions dominated the planet.  A foundational principle of Shamanic Astrology is that the universe is, in essence, Female.  And the Divine manifestations of the One Reality are her actional expressions. Her names include Shakti, Ananke, Boand, Great Mother, etc.  Until recently this knowledge and experience permeated the entirety of global humanity.  A favorite is Great Mother~Great Mystery. 
The noun renaissance refers to rebirth and revival, literally the resurgence or reawakening of life, vigor, and interest.  At the core of the Shamanic Astrology paradigm is the understanding that our current, prevailing (and arguably oppressive and imbalanced) cultural attitude is the result of centuries of influence and judgment that have supported certain approaches to being human while invalidating others.  Within a framework of patriarchy, for example, the male principal is elevated beyond all others.
At this renaissance time of the Turning of the Ages, it is critical that we re-discover, validate, and embody the full spectrum of human potential, including all the different possibilities available to women and men, so that we can celebrate the full expression of both male and female principals and consciously participate in dreaming the dream onward.
"Renaissance" means to go back to the prior truths in order to inspire and re-animate (rebirth) the new era.  We will experience this through the magical link between the land and the sky, which is the literalization of the hermetic dictum "As Above So Below, As Within, So Without."  The Shamanic Astrology Mystery School also re-dreams the Sacred Feminine by invoking and reenergizing the full spectrum of the feminine in both women and men.  This includes the welcoming and recognition of the new expressions of the Goddess and God that are emerging at this time of the Turning of the Ages.
Enjoy this fun and fabulous March

2017 video (about 60 minutes) narrated by Daniel, produced by Gemini Brett, an overview of our Renaissance Journeys, past and future:

Testimonials (from 2014-17):
"Perhaps it was a bit mad to set off for mystical Ireland and a Scottish island at the edge of the world during an eclipse window and Mercury retrograde. But no worries with Daniel's mastery of the land and Anyaa's expert weaving of the organizational details. We began at the Cave of the Cats and a modern-day bard's rendition of the "Irish Iliad," a complex tale about Queen Maeve and her cattle. We ended at a Callanish stone circle dedicated to the Triple Goddess and the Green Man surrounded by an inquisitive and diverse herd of cows and bulls. Inbetween were the stars, stones, stories, tears, laughter, and friendship forged in magic and miracles.Thanks for the dates for next year's adventure. Let me know when sign up begins! xoxo" Robyn
"In planning and looking forward to my trip with Daniel and Anyaa to Scotland and Ireland I was in high anticipation about what I would experience and incorporate into my life upon return. I had high expectations and what this pilgrimage brought to my life far exceeded any hopes. The knowledge and wisdom brought by our teachers, and the guides that joined our group to share their life's passion with us answered many questions and I think more importantly opened the doors to ask many more. The participants that were attracted to gather was a blending of worldwide backgrounds that enhanced our daily journeys and deepened my life in ways that are only now surfacing. The respectful nature of all for quiet as we meditated with the stones and passage cairns allowed a joining with nature and the ancients that was beyond powerful. And then over dinner as we shared our lives and our stories—laughter and connection filled the atmosphere as we enjoyed amazingly good food. I hope to make more trips happen with the Renaissance of the Sacred Feminine and I look forward to bringing this past experience into expression in my daily life as I brought home much to ponder and explore. Thank you for a beyond wonderful experience. I am more today than I was before this experience." Lyn Goldberg
"I so appreciated the beautiful way our Irish adventure unravelled and blossomed due to all the skilful planning and choreography, from the decadently delicious and luxurious Castle of KIlronan to the amazing and extraordinary building and alignment skills of the Stone Age builders of Newgrange, to my meeting with the fairies on Loughcrew! I simply revelled in the beauty of the Irish energy and exquisite landscape, and so honour my roots my ancestors planted there. For me personally this journey was also a sharp shift phase – completions and releases and opening up and moving on, once I had accepted my mystical instructions.
Who knows whether I shall have a fourth opportunity to share another extraordinary journey with you and Daniel, but I know if I am meant to be present, I will surely be there!"  Jennifer 
"I have been fortunate enough to be with Daniel and Anyaa on both the 2014 journey to Callanish and the 2015 Circle in Avebury. Both occasions were richly nourishing to both soul and body: the locations and the landscapes were stunning, the Standing stones, the Crop Circles and the Long Barrows calmly vibrating with the richness of ancient history and ingrained ceremonial devotion of the ancestors to the Great Mother and the Celestial Mysteries. Daniel's teaching made the old ways of our Celtic ancestors so accessible and appealing, and his first hand tuition about the current influences of the celestial bodies was a privilege. It goes without saying that the energies of the ancient sites and stones must be experienced personally to be believed. All this together with most comfortable accommodation and wonderful food makes these getaways an unforgettable experience for those yearning for the time and space to explore the lovemaking between Spirit and Matter, and personal inner connectedness to the As Above and the So Below in a safe and contained Circle ably held by Anyaa and Daniel. I can highly recommend these Journeys and am already greatly excited about the anticipated 2016 trip to Ireland and Scotland on the horizon!"
"My experience with the 2015 Stones and Stars -Sacred Sites and Crop Circles deeply affected my heart and psyche. The teachings about sacred union, the depth at which the ancient peoples understood and lived this truth were profound for me. History, astrology, legend, archaeology were all magically interwoven. The circle was expertly guided and safely bound by Anyaa and Daniel. Excellent adjunct teachers/ facilitators were incorporated to make the experience even richer. The experience was both very personal and more global, as different cultures and their immigration patterns were discussed, and how these factors related to us today- indeed, how they should relate even more than many of us know! I highly recommend Daniel and Anyaa as guides, teachers and organizers of such transformative journeys as this one."
"Many workshops offer beautiful settings and tourist sites like in Scotland, Egypt, or some exotic island. But what made the Callanish Renaissance of the Sacred Feminine workshop stand out for me is the experienced and genius combination of Nita, Daniel, and Anyaa as facilitators.  They each brought their own wisdom and style during the classes, and even though we were a large group, everyone was deeply honored and heard.  The Renaissance workshop offered me insights about the earth and my life– from three master teachers!"
"My week at Callanish was one of the most transformative experiences of my life. We spent our days learning in the most delightful Scottish Inn located in the majestic Scottish countryside from the brilliant Daniel Giamario.
"Daniel eloquently lectured on Sacred Marriage, the Sacred Stone Sites and Shamanic Astrology. The inspiring and powerful Anyaa McAndrew and Nita Gage both lectured, as well as took us on two beautiful Shamanic breathwork journeys."
"These experts created one of the most nurturing and safe environments I've been in. There was space for everyone's voice to be heard and experience honored, allowing us all to have a true exploration of the soul."
"The most mystical and heart opening experience I've ever had was visiting the Sacred Stone Sites, which altered my perception of myself and this magical universe we live in"
"I am so grateful for having had this experience, I can't say enough good things. If you are on the spiritual path this is a most pertinent stop."
"The Scotland/Callanish Renaissance of the Sacred Feminine trip was an adventure into beauty, wonder, and magic that I'll never forget…. a once-in-a-lifetime experience. Daniel, Anyaa, and Nita are wonderfully balanced team that led us through ceremony and altered states combined with lots of factual information about the sites. If you are considering the next adventure, don't even hesitate. You'll be so glad you said "yes," as I was! " Amrita Grace, Maui, Hawaii
http://breastcancermysteryschool.com/
My April 2014 trip to Callanish, Scotland with Daniel, Nita and Anyaa was a life changing experience for me. The magic of this sacred timing at these sacred stones of the Divine Feminine had value beyond anything I could imagine. There is truly magic in these ancient sites and they speak to us. All we need to do is ask and listen Mary Kern, Sonoma County, CA
Enjoy articles by Anyaa on the 2015, and 2014 excursions:
Merging with the Ancestors: The Adventures of the Crop Circle Clan August 2015
by Anyaa McAndrew
We gathered together in South West England from many places: our South African crystal skull carrier Jennifer the furthest, then Daniel in the Philippines, then Jacqueline living in Tuscany, and from Kansas City, Cincinnati, Atlanta, Washington state, Central Florida, and North Carolina. Our local right side-of-the-vehicle, left-side-of-the-road drivers Christina and Sara live the closest. We are a friendly and enthusiastic bunch. We have been connecting by email for months, and many of us are in interconnected circles, students of Daniel, priestesses in my lineage, and like-minded adventurous souls. The cross-quarter time of Lammas, Venus's close conjunction with Mercury and Jupiter and her movement into the Underworld to transform into her incarnation as Leo, all set the cosmological stage. – Read More….
Reflections on our 2014 Callanish Clan Journey
Callanish, the Sacred Feminine and the New Earth: On the Grand Cross of 2014
by Anyaa McAndrew
When we know about the sacred timings and choose to participate in them, we have the capacity to influence the outcome of things. Events are not pre-determined. Consciousness is what the Universe is made of, so as we add our own conscious intent to the great forces at play, there is the possibility that we just might help move events along in a direction that we want them to go. In this case, our direction and intent on our trip to Scotland was to re-connect land and sky, soul and spirit, masculine and feminine as it once was in pre-patriarchal, pre-Celtic, Neolithic times. – Read more….